USA
Chris Hedges discusses the threat of war with Iran and the US relationship with Saudi Arabia and Israel with anti-war activist Medea Benjamin of Codepink.
RT - Amerika d. 18/5 - 2019
En fremragende skildring af fredsaktivisten, Codepink's Medea Benjamin
Israel og Sudirabien ønsker at USA går ind i Iran med militær eller at det bliver muligt at få grupper til at bekæmpe styret indefra, men det ser det ikke ud til at iranerne ønsker, de har set hvordan det er gået i Syrien.
USA forsyner hemmeligt Saudiarabien med avanceret atomteknologi.
Euroen er ikke kommet på plads til at kunne give Saudiarabien en mulighed for finasiel basis i stedet for dollaren.
USA bryder internationale handelsaftaler med boycot at Iran og dem der køber Irans olie mm.

Pompeo denies Netanyahu's promise to annex West Bank will hurt 'peace plan'
RT d. 14/4 - 2019
...This has included a unilateral declaration recognizing Israeli sovereignty over the Golan Heights, which the United Nations has repeatedly declared illegitimate since Israel officially annexed the Syrian territory in 1981.
It has also seen the relocation of the US embassy from Tel Aviv to Jerusalem, defying international law that holds the eastern part of the city to be occupied Palestinian territory. It's hard to see how this vision could do anything other than hurt the peace process.
Pompeo has been noticeably cagey since Netanyahu's re-election regarding the two-state solution that until very recently represented the official goal of US policy toward Israel and Palestine...
... Now that the PM's future is secure, Trump has said he will unveil the plan in June. It's unclear how much more of the surrounding area Netanyahu plans to annex before then.
The addiction to militarism spells the end of the US as we know it
The Transnational d. 10/4 - 2019
A major economic factor behind the relative decline of the US is one hardly ever mentioned, at least not in the Western mainstream circles: Militarism. The US is militarizing itself to death. (1)
alt="Jan Oberg"Jan Oberg
Instead, we get a constant news stream about all the enemies the US believes it has all over the world – serving its addiction more than the truth.
The costs of its armed forces, its global war on terror, the homeland security, pensions and medical aid to veterans, its bases abroad and all its wars – plus, not the least paying interest on the loans that finance it all – add up to sums no one can imagine.
These are the facts: Every hour since 2001, the US taxpayers are paying US $ 32 million. That is now close to US$ 5000 billion in total!.

¡
Alexandria Ocasio-Cortez dissects America's 'fundamentally broken' campaign finance laws.
The Guardian d. 8/2 - 2019
'Let's play a game,' congresswoman Alexandria Ocasio-Cortez says to a panel of government watchdogs. Ocasio-Cortez goes on to dissect US campaign finance laws to make her point about the 'fundamentally broken' system.

USA ønsker at:
Control Space, dominate space, and deny other nations the use of space.
717 mia dobles eller 4821 mia kr.
er det amerikanske militærbudget,
det er mere en de 10 næste lande til sammen.
USA rammer russiske interesser med nye sanktioner
Politikken d. 8/11 - 2018
Ukrainske og russiske borgere og foretagender rammes af den nye runde amerikanske sanktioner.
USA er klar med flere sanktioner med relation til Rusland...
...Både USA og EU står klar til at straffe dem, påpeger han ifølge AFP...

Introduced in House (03/23/2017)
Israel Anti-Boycott Act
Læs om forslaget på den officielle webside.
Medforslagsstillere:
Decorated Navy SEAL Is Accused of
War Crimes in Iraq
The New York Times d. 15/11 - 2018
NAVAL BASE SAN DIEGO — Edward Gallagher was something special, even by the punishing standards of the Navy SEALs. Both a lifesaving medic and a crack sniper, he was repeatedly decorated for valor and for coolheaded leadership during 19 years of combat deployments. After his latest tour, fighting Islamic State militants in Iraq, he was named the top platoon leader in SEAL Team 7 and nominated for the Silver Star, the military's third-highest honor.
But now, less than a year later, Special Operations Chief Gallagher, 39, is locked in the brig, facing charges that during that same deployment — his eighth — he shot indiscriminately at civilians, killed a teenage Islamic State fighter with a handmade custom blade, and then performed his re-enlistment ceremony posing with the teenager's bloody corpse in front of an American flag.
Trump's 'Dissociation from Reality' at UN
TheRealNews d. 26/9 - 2018
President Trump had the opportunity to address the UN General Assembly opening for the second time, which he used to brag and lie, says Phyllis Bennis, of the Institute for Policy Studies
This is How The U.S. Created The Talibans
Offenliggjort på Facebook d. 22/9 - 2018
(d. 26/9 - 2018 - 18.000 visninger)
One of The Most Closely Guarded Secrets of The Cold War...
This is Why The U.S. is Turning a Blind Eye to Israel's Nuclear Weapons
Offentliggjortpå Facebook d.21/9 - 2018
(59.000 visinger d. 26/9)
Lawrence Wilkerson on the Neocons Plan: War in Syria, Then Iran
AntiWar d. 14/9 - 2018
Interviewed Tuesday by host Sharmini Peries at The Real News, Lawrence Wilkerson, a College of William & Mary professor and former chief of staff for United States Secretary of State Colin Powell, warned that "the neoconservative agenda" for an escalated United States war on Syria followed by war on Iran has had a "resurrection" in President Donald Trump's administration.
Regarding talk about the US taking military action in Syria in response to potential allegations of the use of chemical weapons – false flag or otherwise – in the country, Wilkerson comments that the war advocates are "looking for every excuse, any excuse, all excuses, to reopen US operations, major U.S. operations, against [President Bashar al-Assad] in Syria, always realizing that the ultimate target is Tehran." Tehran is the capital of Iran.
Addressing previous allegations of chemical weapons use by the Syria government that were used to justify US military actions in the country, Wilkerson, who is an Academic Board member for the Ron Paul Institute for Peace and Prosperity, states that he has seen "no proof" that Assad "ever used chemical weapons" and disparages the reputability of the White Helmets organization whose claims have been used to build support for US military actions in Syria.
Wilkerson further warns that the neoconservative agenda regarding war on Syria and Iran also threatens both conflict between the US and Russia and the long-term bogging down of US military forces in major conflict. Wilkerson states: "My serious concern is about the way [US National Security Advisor John Bolton] and others in their positions of power now are orchestrating a scenario whereby Donald Trump, for political reasons or whatever, can use force in a significant way against Assad and ultimately Iran, because Iran's forces are there, and ultimately against Russia, because their forces are there in Syria, and this is most disquieting." The neoconservatives' military plan, argues Wilkerson, is "a recipe for" the US military being in the region for "the next generation" with significant force "mired even deeper in this morass" and with the "day after day" attrition of dollars and lives.
Se hele interviewet på video her
The Collapse of the American Empire?
a. d. 12/9 - 2018
The Agenda welcomes Pulitzer Prize-winning journalist Chris Hedges, who over the past decade and a half has made his name as a columnist, activist and author. He's been a vociferous public critic of presidents on both sides of the American political spectrum, and his latest book, 'America, the Farewell Tour,' is nothing short of a full-throated throttling of the political, social, and cultural state of his country.
The International Criminal Court wants to probe into alleged U.S. war crimes in Afghanistan. The US's response? Threaten the court with sanctions.
Facebook d. 11/9 - 2018
Robert Reich d. 7. august 2018
om USA's militær budget.
Last week, the Senate approved $717 billion in defense spending with hardly any debate or media attention. Mind you, the United States already spends more than on the military than the next 10 nations combined. It's time we start investing in the American people, not defense contractors. What do you think?
Latest WikiLeaks release shows how the CIA uses computer code to hide the origins of its hacking attacks and 'disguise them as Russian or Chinese activity'
Mail online d. 4/8 - 2018
WikiLeaks published 676 source code files today which it claimed are from CIA
It says the CIA disguised its own hacking attacks to make it appear those responsible were Russian, Chinese, Iranian or North Korean

WikiLeaks has published hundreds more files today which it claims show the CIA went to great lengths to disguise its own hacking attacks and point the finger at Russia, China, North Korea and Iran.
The 676 files released today are part of WikiLeaks' Vault 7 tranche of files and they claim to give an insight into the CIA's Marble software, which can forensically disguise viruses, trojans and hacking attacks.
WikiLeaks says the source code suggests Marble has test examples in Chinese, Russian, Korean, Arabic and Farsi (the Iranian language).
It says: 'This would permit a forensic attribution double game, for example by pretending that the spoken language of the malware creator was not American English, but Chinese.'
This could lead forensic investigators into wrongly concluding that CIA hacks were carried out by the Kremlin, the Chinese government, Iran, North Korea or Arabic-speaking terror groups such as ISIS.
WikiLeaks, whose founder Julian Assange remains holed up in the Ecuadorean Embassy in London, said Vault 7 was the most comprehensive release of US spying files ever made public.
Earlier this month WikiLeaks published thousands of documents claiming to reveal top CIA hacking secrets, including the agency's ability to infiltrate encrypted apps, break into smart TVs and phones and program self-driving cars.
It also claims the CIA can bypass the encryption of Whatsapp, Signal, Telegram, Wiebo, Confide and Cloakman by hacking the smart phones the applications run on.
The CIA was also looking at hacking the vehicle control systems used in modern cars and trucks, WikiLeaks claims.
Wikileaks said the release of confidential documents on the agency already eclipses the total number of pages published over the first three years of the Edward Snowden NSA leaks.
Experts who've started to sift through the material said it appeared legitimate - and that the release was almost certain to shake the CIA.
Advertisement
Read more: WikiLeaks - Vault 7: Projects

139 House Democrats Join GOP to Approve $717 Billion in Military Spending
Common Dreams, by Jake Johnson d. 26/7 2018
"How are they going to pay for this? Oh wait, that question only gets asked when it comes to social programs that benefit the working class."
With the help of 139 Democrats, the House of Representatives on Thursday easily rammed through the 2019 National Defense Authorization Act (NDAA), which—if it passes the Senate—will hand President Donald Trump $717 billion in military spending.
"Of the total $717 billion, the bill would authorize $616.9 billion for the base Pentagon budget, $21.9 billion for nuclear weapons programs under the Energy Department, and another $69 billion in war spending from the special Overseas Contingency Operations account," Politico reported following the 359-54 vote. View the full roll call here.
Additionally, the NDAA passed by the House would authorize 13 new Navy warships, approve the Pentagon's request to buy 77 F-35s, and green-light "a new submarine-launched, low-yield nuclear warhead," Politico notes.
"How are they going to pay for this?" asked one commentator on Twitter. "Oh wait, that question only gets asked when it comes to social programs that benefit the working class."...
As Trump announces he is above the law?—?we slide from democracy to dictatorship
Medium, af Shaun King d. 5/6 - 2018
...Yesterday Donald Trump said what I think may be the most dangerous thing he's ever said since being elected President. Now he's said many things that were uglier and more offensive. He's said and done so many offensive things that it can be hard to keep track, but yesterday he literally tweeted that he is above the law and can pardon himself for anything...
Immigrant families were told they must to pay for DNA tests the US government is demanding they take before they can be reunited with their children
...Immigration attorney Iliana Holguin, who works with the shelter, said some of her clients have been ordered to pay $700 to $800 to prove their relationship to the government. That is likely a sum far larger many asylum seekers have at their disposal...
Trump's Military Drops a Bomb Every 12 Minutes, and No One Is Talking About It
truth dig d. 19/6 - 2018 af Lee Camp

...Once every 12 minutes.
The United States military drops an explosive with a strength you can hardly comprehend once every 12 minutes. And that's odd, because we're technically at war with—let me think—zero countries. So that should mean zero bombs are being dropped, right?...
...And let's take a moment to wipe away the idea that our "advanced weaponry" hits only the bad guys. As David DeGraw put it, "According to the C.I.A.'s own documents, the people on the 'kill list,' who were targeted for 'death-by-drone,' accounted for only 2% of the deaths caused by the drone strikes."...
...You're thinking of a rational world. We do not live there.
Instead, we live in a world where the Pentagon is completely and utterly out of control. A few weeks ago, I wrote about the $21 trillion (that's not a typo) that has gone unaccounted for at the Pentagon. But I didn't get into the number of bombs that ridiculous amount of money buys us. President George W. Bush's military dropped 70,000 bombs on five countries. But of that outrageous number, only 57 of those bombs really upset the international community.
Because there were 57 strikes in Pakistan, Somalia and Yemen—countries the U.S. was neither at war with nor had ongoing conflicts with. And the world was kind of horrified. There was a lot of talk that went something like, "Wait a second. We're bombing in countries outside of war zones? Is it possible that's a slippery slope ending in us just bombing all the goddamn time? (Awkward pause.) … Nah. Whichever president follows Bush will be a normal adult person (with a functional brain stem of some sort) and will therefore stop this madness."
We were so cute and naive back then, like a kitten when it's first waking up in the morning.
The Bureau of Investigative Journalism reported that under President Barack Obama there were "563 strikes, largely by drones, that targeted Pakistan, Somalia and Yemen. …"
It's not just the fact that bombing outside of a war zone is a horrific violation of international law and global norms. It's also the morally reprehensible targeting of people for pre-crime, which is what we're doing and what the Tom Cruise movie "Minority Report" warned us about. (Humans are very bad at taking the advice of sci-fi dystopias. If we'd listened to "1984," we wouldn't have allowed the existence of the National Security Agency. If we listened to "The Terminator," we wouldn't have allowed the existence of drone warfare. And if we'd listened to "The Matrix," we wouldn't have allowed the vast majority of humans to get lost in a virtual reality of spectacle and vapid nonsense while the oceans die in a swamp of plastic waste. … But you know, who's counting?)
There was basically a media blackout while Obama was president. You could count on one hand the number of mainstream media reports on the Pentagon's daily bombing campaigns under Obama. And even when the media did mention it, the underlying sentiment was, "Yeah, but look at how suave Obama is while he's OK'ing endless destruction. He's like the Steve McQueen of aerial death."
And let's take a moment to wipe away the idea that our "advanced weaponry" hits only the bad guys. As David DeGraw put it, "According to the C.I.A.'s own documents, the people on the 'kill list,' who were targeted for 'death-by-drone,' accounted for only 2% of the deaths caused by the drone strikes."
Two percent. Really, Pentagon? You got a two on the test? You get five points just for spelling your name right.
But those 70,000 bombs dropped by Bush—it was child's play. DeGraw again: "[Obama] dropped 100,000 bombs in seven countries. He out-bombed Bush by 30,000 bombs and 2 countries."
You have to admit that's impressively horrific. That puts Obama in a very elite group of Nobel Peace Prize winners who have killed that many innocent civilians. The reunions are mainly just him and Henry Kissinger wearing little hand-drawn name tags and munching on deviled eggs.
However, we now know that Donald Trump's administration puts all previous presidents to shame. The Pentagon's numbers show that during George W. Bush's eight years he averaged 24 bombs dropped per day, which is 8,750 per year. Over the course of Obama's time in office, his military dropped 34 bombs per day, 12,500 per year. And in Trump's first year in office, he averaged 121 bombs dropped per day, for an annual total of 44,096.
Trump's military dropped 44,000 bombs in his first year in office.
He has basically taken the gloves off the Pentagon, taken the leash off an already rabid dog. So the end result is a military that's behaving like Lil Wayne crossed with Conor McGregor. You look away for one minute, look back, and are like, "What the fuck did you just do? I was gone for like, a second!"
Under Trump, five bombs are dropped per hour—every hour of every day. That averages out to a bomb every 12 minutes.
And which is more outrageous—the crazy amount of death and destruction we are creating around the world, or the fact that your mainstream corporate media basically NEVER investigates it? They talk about Trump's flaws. They say he's a racist, bulbous-headed, self-centered idiot (which is totally accurate)—but they don't criticize the perpetual Amityville massacre our military perpetrates by dropping a bomb every 12 minutes, most of them killing 98 percent non-targets.
When you have a Department of War with a completely unaccountable budget—as we saw with the $21 trillion—and you have a president with no interest in overseeing how much death the Department of War is responsible for, then you end up dropping so many bombs that the Pentagon has reported we are running out of bombs.
Oh, dear God. If we run out of our bombs, then how will we stop all those innocent civilians from … farming? Think of all the goats that will be allowed to go about their days.
And, as with the $21 trillion, the theme seems to be "unaccountable."
Journalist Witney Webb wrote in February, "Shockingly, more than 80 percent of those killed have never even been identified and the C.I.A.'s own documents have shown that they are not even aware of who they are killing—avoiding the issue of reporting civilian deaths simply by naming all those in the strike zone as enemy combatants."...
Trump sparker gang i krig mod de uønskede: »De er ikke mennesker. De er dyr«
Berlingske d. 17/6 - 2018
Trump har kickstartet ny krig mod illegal indvandring. Han kalder kriminelle indvandrere for »dyr«, kræver flere deporteret, »nultolerance« og truer med nedlukning af regeringen, hvis Kongressen ikke finder penge til hans største løfte - en mur mod Mexico. Berlingske har mødt de uønskede i den mexicanske grænseby Tijuana.
Læs hele artiklen - kræver abonnement
Vestverdens vendepunkt:
Civil ulydighed over for USA
Blok i Arbejderen d. 16/5 - 2018
Rationelt og etisk bør venner og allierede indse deres ansvar for at overtale USA til at stoppe imperie- og krigspolitikken. Ingen vil have USA som verdens politimand.
Denne tankegang er ikke anti-amerikanisme, det er anti-imperialisme og anti-krig...
...Hvad kan man tænke sig som objektivt rimeligt i forhold til USA's gentagne brud på fællesskab, løfter, folkeret og almindelig sømmelighed?
Økonomiske sanktioner mod udvalgte økonomiske, militære og politiske amerikanske ledere. USA bruger sanktioner mod andre, lad dem prøve det selv, men sådan at det ikke går ud over de over 40 millioner amerikanere, der lever i dyb fattigdom, og de mange andre millioner, der kun lige får det til at gå rundt.
Amerikanske ambassadører indkaldes til udenrigsministerierne i alle venligtsindede og allierede lande til en reel hard talk: "Hertil og ikke længere, jeres politik skader os, jeres venner, og hele verden.
Handl med Iran for fuld udblæsning. Washington skal ikke diktere, hvem europæiske banker, virksomheder og andre har ret til at samarbejde med. USA vil kunne straffe nogle få, men når tusinder bare bryder USA's sanktioner vil det amerikanske juridiske system tvinges til at give op.
Sig nej til enhver form for samarbejde om militære interventioner. Vi deltager under ingen omstændighed i fremtidig militær aktivitet mod Iran. Og Israel vil stå helt alene.
Sanktioner mod Israel, hvis det fortsætter med at bombe iranske faciliteter i Syrien, hvor Iran har ret til at være, fordi det er inviteret. Og hvis Israel fortsætter med at have atomvåben og nægter at acceptere inspektioner og medlemskab af Ikke-sprednings-aftalen. Israels atomvåben skal nu forhandles væk.
Olien vil blive handlet i andre valutaer end den amerikanske dollar.
USA's baser i europæiske lande kan blive lukket, og amerikanske atomvåben skal fjernes…
indtil USA a) dropper de nye sanktioner mod Iran og mod sine allierede, b) ophører med at true Iran, hvilket i sig selv er et brud på folkeretten og c) accepterer uden straffeaktioner, at dem, der står fast på aftalen med Iran, handler i deres og Irans fælles interesser...
Læs hele artiklen på arbejderen
National Security Strategy of the United States of Amerika d. 18/12 - 2017
...Four vital, national interests—organized as the strategy's four pillars—form the backbone of this commitment:
Protect the homeland, the American people, and the American way of life
Promote American prosperity
Preserve peace through strength
Advance American influence
This NSS and its four themes are guided by a return to principled realism.
The strategy is realist because it is clear-eyed about global competition: It acknowledges the central role of power in world affairs, affirms that sovereign states are the best hope for a peaceful world, and clearly defines our national interests. It is principled because it is grounded in the knowledge that promoting American values is key to spreading peace and prosperity around the globe...
Link til præsentatonen fra Det Hvide Hus.
The full NSS report is available for download here.
Read a summary of the President's National Security Strategy here.
Muslim Ban Reaches the Supreme Court – How We All Can Keep Fighting
pathos d. 25/4 - 2018
...I immigrated from Pakistan when I was 18 months old. My family and I are U.S. citizens, and have been for 40 years. But still, we are affected by the ban, and Pakistan isn't even on the list. Because of our country's current politics and what we fear from seeing what others have faced under the ban, we won't allow our parents to visit Pakistan, because we don't know if they'll be able to return home. My uncle, who I haven't seen in 20 years, died recently. But still, I have no plans to visit anytime soon.
A mosque where my brother lives was set on fire. My mom is harassed at the airport because she wears a headscarf. At a prior job, people talked loudly about bringing their guns to work. They had concealed weapons permits. They stared me down. They wanted me to know...

the CIA uses computer code to hide the origins of its hacking attacks and 'disguise them as Russian or Chinese activity'
Mail Online d. 31/3 - 2017
WikiLeaks published 676 source code files today which it claimed are from CIA
It says the CIA disguised its own hacking attacks to make it appear those responsible were Russian, Chinese, Iranian or North Korean and Iran.
The 676 files released today are part of WikiLeaks' Vault 7 tranche of files and they claim to give an insight into the CIA's Marble software, which can forensically disguise viruses, trojans and hacking attacks.
WikiLeaks says the source code suggests Marble has test examples in Chinese, Russian, Korean, Arabic and Farsi (the Iranian language).
It says: 'This would permit a forensic attribution double game, for example by pretending that the spoken language of the malware creator was not American English, but Chinese.'
This could lead forensic investigators into wrongly concluding that CIA hacks were carried out by the Kremlin, the Chinese government, Iran, North Korea or Arabic-speaking terror groups such as ISIS.
WikiLeaks, whose founder Julian Assange remains holed up in the Ecuadorean Embassy in London, said Vault 7 was the most comprehensive release of US spying files ever made public...
...Experts who've started to sift through the material said it appeared legitimate - and that the release was almost certain to shake the CIA.
Denne side er sidst redigeret d. 13/4 - 2019
USA har blandet sig i flere demokratiske valg i verden end Rusland
Information d. 17/7 - 2018
Ruslands forsøg på at påvirke udfaldet af præsidentvalget i USA i 2016 var del af et mønster, som begge lande har fulgt siden Den Kolde Krig. Både lyssky og synlige metoder er blevet benyttet til at støtte kandidater og partier, der anses for en trussel mod USA's eller Ruslands interesser, fortæller en amerikansk forsker.
Eller The New York Times d. 17/2 - 2018

Notater fra Orientering d. 19/12 - 2017 om NSS.
USA's Nationale sikkerhedsstrategi.
Økonomiske rivaler skal ses som lige så store modstandere som de miltære.
Den Nationale sikkerhedsstrategi er et oplæg til dialog med kongressen
Overmatch går igen.
Fjenderne er Rusland, Kina og international terrorisme.
for Trump også handelsinteresser sikkerhedspolitiske.
Er man tilfreds derhjemme kan man lettere tage en kamp derude - det er dog i modstrid med Vietnam krigen.
Trump kræver amerikansk dominans.
USA vil forbeholde sig ret til den nødvendige energi, til den rette pris og er parat til at gå i krig for dette.
USA vil bestemme hvordan energi ressourcerne skal fordeles.
NATO's §5 - Musketereden, Et angreb på en, er et angreb på alle. Andre lande i NATO skal betale deres rimelige del på 2%.

Shadow World – Bag om den internationale våbenhandel
Se filmen fra Filmcentralens hjemmeside
Gennem interviews med whistleblowers, efterforskere, anklagere samt insidere fra både militæret og militærindustrien, viser 'Shadow World' hvordan våbenhandlen, med vores politiske ledere som villige mellemmænd, er drivkraften bag krig. Resultatet er en verden, hvor det politiske demokrati korrumperes i jagten på en fed kommission, og hvor synet af en klar, blå himmel for nogle ikke længere er fredfyldt: Det er optimale omstændigheder for tilbagevendende bombende droner. 'Shadow World' giver publikum en mulighed for at gennemskue de skjulte dagsordener bag enhver krig, i håbet om en sikrere fremtid. Filmen afslører virkeligheden bag den globale våbenhandel – en branche, som tæller sin profit i milliarder og sine tab i menneskeliv.
An Interview with Andrew Feinstein - Author - The Shadow World
Der er lavet en film over bogen The Shadow World af Andrew Feinstein. En bog der fortæller om hvordan det militærindustielle kompleks styrer en række vigtige politikkere ved hjælp at penge mm.
The Story Behind the Gripping New Documentary 'Shadow World' (1/5)
Offentliggjort den 16. dec. 2016
In part one, Andrew Feinstein discusses being witness to a corrupt weapons deal in post-apartheid South Africa sparked his quest to uncover the world of war profiteers and weapons contractors
Trump Dredging the Swamp to Empower the Worst Elements of the 'Shadow World' (2/5)
Offentliggjort den 16. dec. 2016
In part two, Andrew Feinstein says the Trump administration will continue the revolving door between government and defense contractors
How the Arms Industry Perpetuate War and Undermine Security and Democracy (3/5)
Offentliggjort den 16. dec. 2016
In part three, Andrew Feinstein discusses how US weapons and allies like Saudi Arabia have fueled conflicts in Syria, Yemen and across the Middle East
"Shadow World:" Arms Dealers Boasting of Bribes, Corruption, and Impunity (4/5)
Offentliggjort den 16. dec. 2016
In part four, Andrew Feinstein discusses the story of now jailed arms dealer Riccardo Privitera, featured in "Shadow World"
Can the "Shadow World" of Corrupt Weapons Deals be Held Accountable? (5/5)
Offentliggjort den 16. dec. 2016
In part 5, Andrew Feinstein shares stories of citizens who took on the defense industry and won
U.S. forces are using white phosphorus munitions in Iraq but it's unclear exactly how
The Washington post d. 23/9 - 2016
...The United States has used white phosphorus in Iraq before, notably in the 2004 battle for Fallujah, when Marine artillery batteries were scrutinized for firing the munitions on entrenched insurgents. In Afghanistan, white phosphorus was used by U.S. troops, primarily in the country's restive east. In 2009, NATO forces there were accused of burning an 8-year-old girl with the munitions...
USA's krige fortsætter, uanset hvad embedsmænd hævder
Information d. 28/7 - 2015
Det amerikanske militær har ingen planer om at trække de tilbageværende 9.000 soldater ud af Afghanistan efter 2016. Vi har set denne manøvre før – i Irak…
…»Mange dele af Libyen, særligt i den østlige del af landet, er blevet forvandlet til træningslejre for jihadister, som tiltrækker kæmpere fra Tunesien til Irak,« skrev Daily Beast for et par dage siden. Som konsekvens er USA's militær desperat på jagt efter et sted i nærheden af Libyen, hvor der kan opbygges en dronebase, hvorfra angreb kan sættes i gang – ikke blot mod Libyen men også mod andre mål i Nordafrika…
...Samtidig, efter måneders forsinkelse, er de første USA-trænede oprørere i Syrien på vej ind i IS-kontrollerede regioner, og processen bliver allerede af forsvarseksperter beskyldt for at være en snigmanøvre, der trækker USA længere ind i krigen (igen, uden så meget som en formel erklæring om dette fra regeringens side)...

Retired US general: Drones cause more damage than good
Aljazeera d. 16/7 - 2015
…Asked by Al Jazeera English's Mehdi Hasan if drone strikes tend to create more terrorists than they kill, Flynn, who has been described by Wired magazine as "the real father of the modern JSOC", replied: "I don't disagree with that", adding: "I think as an overarching strategy, it is a failed strategy."
"What we have is this continued investment in conflict," the retired general said. "The more weapons we give, the more bombs we drop, that just… fuels the conflict. Some of that has to be done but I am looking for the other solutions."
Commenting on the rise of ISIL in Iraq, Flynn acknowledged the role played by the US invasion and occupation of Iraq. "We definitely put fuel on a fire," he told Hasan. "Absolutely… there is no doubt, history will not be kind to the decisions that were made certainly in 2003."
"Going into Iraq, definitely… it was a strategic mistake," said Flynn on Head to Head…

Intet svar om USA's overvågning
Arbejderen d. 12 august 2013
Danskerne kan ikke få svar på, om der eksisterer en hemmelig aftale, der betyder, at vi bliver direkte overvåget af USA's efterretningstjeneste NSA med den danske regerings accept…

Study: U.S. regime has killed 20-30 million people since World War Two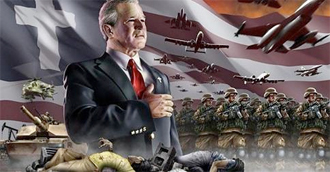 James A. Lucas
CounterCurrents.org
Tue, 24 Apr 2007 06:35 CEST
Introduction
After the catastrophic attacks of September 11 2001 monumental sorrow and a feeling of desperate and understandable anger began to permeate the American psyche. A few people at that time attempted to promote a balanced perspective by pointing out that the United States had also been responsible for causing those same feelings in people in other nations, but they produced hardly a ripple. Although Americans understand in the abstract the wisdom of people around the world empathizing with the suffering of one another, such a reminder of wrongs committed by our nation got little hearing and was soon overshadowed by an accelerated "war on terrorism."
But we must continue our efforts to develop understanding and compassion in the world. Hopefully, this article will assist in doing that by addressing the question "How many September 11ths has the United States caused in other nations since WWII?" This theme is developed in this report which contains an estimated numbers of such deaths in 37 nations as well as brief explanations of why the U.S. is considered culpable...
Comment: Note that this report was published 7 years ago - many more people have been killed and injured since then. Note also that figures for the Second Iraq War were incomplete at the time of publishing. The death toll has since reached somewhere between 1 and 2 million people killed.
Undersøgelse af holdning til Israel og USA
Sunday, November 2nd, 2003, EU Observer.
Over half of Europeans think that Israel now presents the biggest threat to world peace according to a controversial poll requested by the European Commission.
According to the same survey, Europeans believe the United States contributes the most to world instability along with Afghanistan, Iran, Iraq and North Korea.

I Orientering d. 16. juni 2003 blev dette websted omtalt:
på side 51, fortæller de at det kan blive svært at skabe et globalt imperium med mindre der kommer et "Pearl Harbor".
Det fortælles også i dette indlæg, at Kina er de eneste der kan forhindre dette, men de skal om nødvendigt tvinges til med magt at acceptere dette.
Biologiske våben
USA indrømmer at have foretaget 50 hemmelige forsøg med biologiske våben mod soldater.
1. juli 2002. Se webside.
USA skal med i internationale aftaler
- det modsatte truer freden
Som der er i dag handler USA ud fra, at deres magt er andre langt overlegen og de arbejde ikke for at skabe et internationalt retssamfund, men et globalt imperium.
Fra Information 15 auguft 2002, 1 . sektion side 2
Nyhedsanalyse: Angrebsmål: Retssamfundet:
"Henry Kissinger, der i sin tid gjorde mange 'erfaringer' på magtens tinde, virker opmuntret af det, han kalder for »revolutionerende nye visioner«. Forleden skrev han i en artikel i The Washington Post, at USA - uden mindreværdsfølelser - skal påtage sig ledelsen af et nyt, globalt imperium. Kissinger mener, at USA skal bruge sin imperiale magt uden skelen til andre landes suverænitet og rette præventive angreb mod truende magter som f.eks. Irak."
International ret
I Beograd undre man sig over at USA har travlt med at stille serbere for den internationale domstol, samtidig med at USA ikke vil annerkende FN's international domstol mod krisgsforbrydelser i Haag og Henry Kisinger stilles næppe for en domstol.
USA vil nu undlade at yde militær- eller humanitær hjælp til lande der ikke underskriver at amerikanske statsborgere ikke kan restforfølges.
Samtidig behandler USA selv fanger som det passer dem og er begyndt at lave aftaler om at få udleveret borgere til USA, hvis USA betegner disse som terromistænkte - USA skal ikke fremkomme med beviser af nogen art - Dette er England gået med.
50 lande risikere at miste støtte fra USA, da de ikke har underskrevet, at de ikke vil anklage amerikanske statsborgere for den Internationale Krigsforbryder Domstol i Haag, ICC International Criminal Court
FN
USA har ingen skrupler ved at slå uskyldige mennesker i andre lande ihjel for at opnå egne mål – det retfærdiggøres med 11. september.

USA gik i krig mod Irak - en forbyggende krig, som der ikke er hjemmel til i FN's charter, hermed bryder USA med de vigtigste regler i FN. I 80'erne støttede USA en række diktatorer og terrorgrupper i Latinamerika, skulle andre lande af den grund gå i krig med USA?
I latinamerika er man vred over at USA ikke vil undsige sig kupforsøget mod Venesuelas nyvalgte præsident til trods for aftale mellem de latinamerikanske lande og USA for respekt af folkevalgte i Latinamerika.
Amerikansk terror
Her har USA en træningslejr til træning i terror, snigmord / attentat, tortur - skal den stoppes?
se: http://www.soaw.org/new/

Study: US is an oligarchy, not a democracy
BBC NEWS d. 17/4 - 2014
…The US is dominated by a rich and powerful elite.
So concludes a recent study by Princeton University Prof Martin Gilens and Northwestern University Prof Benjamin I Page…
…Multivariate analysis indicates that economic elites and organised groups representing business interests have substantial independent impacts on US government policy, while average citizens and mass-based interest groups have little or no independent influence.
In English: the wealthy few move policy, while the average American has little power…
Artikel fra Prof Martin Gilens and Prof Benjamin I Page klik her

Atomvåben
USA undergraver ikke-sprædningsaftalen af atomvåben og forbudet mod prøvesprængninger, ABM-aftalen er opsagt af USA så de kan militarisere rummet. USA overvejer brugen af mindre atomvåben. Det kan sålesdes ikke forventes, at de lande der ikke atomvåben forsat finder at USA overholder deres del af aftalen, og dermed opsiger aftalen og starter en oprustning.
USA stiller krav til Iran om kontrol med masseødelæggelsesvåben, men Israel går fri, her er der ingen krav. Det gavner ikke situationen i Mellemøsten, at Israel kan være verdens 6. største atommagt samtidig med at der stilles krav til Iran om at lade inspektører tilse at der ikke er masseødelæggelsevåben der.
USA manglende samarbejde med det internationale samfund
USA afviser internationale aftaler:
Kyoto protokollen om den globale opvarmning, den Internationale Krigsforbryder Domstol,
CTBS (Comprehensive Test Ban Treaty) prøvesprængningstraktaten,
en international konvention til regulering af mindre våben,
verificering af protokol for biologiske og for kemiske våben,
og antibalistik misil system traktaten og mange flere.
USA demonstrere slet og ret magt, og viser med al tydelighed, at de ikke finder det nødvendigt at samarbejde med andre.
USA og olien
USA bruger 27% af al olien i verdenen og vil med magt sikre denne leverance - Dette er formentlig en væsentlig grund til krigen mod Irak, da Saudi Arabien måske ikke er så sikker en olie leverandør til USA.
USA´s magt
USA anvender ca. 45% af verdens samlede militærudgifter til opbygning af dens magt.
I stedet for at øge oprustningen for at blive enehærsker i rummet kunne USA skaffe sig mange venner og udrydde den værste fattigdom på jorden - og fattigdommen i USA.

af Poul Eck Sørensen

Forarmet uran
Forarmet urans virkning på amerikanske soldater.
se webside.
Pax Americana and
the Weaponization of Space
Kontrollen med rummet skal give USA mulighed for at nægte andre at bruge rummet, hvis det er nødvendigt.
Der er ca. 1000 satelitter i rummet, USA er ejer og bruger af 49%.
USA udgør 5% af jordens befolkning- de finder at de har ret til at bestemme hvem, der skal kunne bruge rummet! For at have denne mulighed går 50% af al skat i USA til Pentagon. Det betyder, at en meget stor del af den amerikanske industri er interesseret i at lave våben og denne industri har en stærkt stigende indtjening og vokser meget hurtigt. SI International, L3 communication, Sparta, The Aerospace Corporation, Mitra, Lockheed Martin, Northrop Grumman
En meget stor og stærk gruppe i USA har derfor brug for at fortælle amerikanerne at der er en trussel mod dem.
Med så mange avancerede våben er der altid den mulighed, at de kan fejle, det så vi under den kolde krig, der var vi flere gange grundet en fejl tæt på en atomkrig.
USA er de eneste i FN der stemmer mod en afmilitarisering af rummet. USA's militarisering af rummet er startet for lang tid siden. Obama sagde, at han ikke ville militarisere rummet, men det fortsætter med uformindsket fart.
Vi er blevet meget afhængige af sattelitter, men de ville forsvinde i en rum krig. USA's mål er kontrol og total dominans i rummet og dermed på jorden.
Pax Americana and the Weaponization
of Space
Esbjerg Fredsbevægelse er medlem af International Peace Bureau som afholder kongres d. 13 - 15. september 2013.
Vi arbejder for at militarisering af rummet bliver et focus punkt på kongressen i IPB.
se
Pax Americana and the Weaponization of Space
Syrien-konflikten truer USA's strategi om globalt lederskab.
Information d. 4/9 - 2013
For USA kan Syrien-spørgsmålet ikke reduceres til, om man skal straffe regimet for brud på de folkeretlige principper. Det handler også om, at en optrappet konflikt i Mellemøsten kan få ødelæggende konsekvenser for de amerikanske ambitioner om at fastholde det globale lederskab
Støt underskriftindsamlingen mod nye atomvåben i Europa.
Den 20. maj 2012, vil verdens ledere mødes på NATO-topmødet i Chicago, hvor fremtiden for hundredvis af amerikanske atomvåben deployeret i Europa er på dagsordenen. Lad os fortælle dem, at det er tid til at få disse våben ud af Europa, underskriv andragende nedenfor!
Til lederne af NATO-lande,
Den Kolde Krig har været forbi i mere end 20 år. Holde amerikanske atomvåben i Tyskland, Tyrkiet, Holland, Belgien og Italien giver ingen mening. Disse våben er levn fra en svunden tid: de er farlige, ubrugelige og dyre og tager ikke stilling til nutidens aktuelle sikkerhedstrusler. Vi opfordrer dig til at fjerne disse våben fra Europa. Du har en historisk chance for at tage det næste afgørende skridt i retning af en verden uden atomvåben.
Besøg dette link
USA har dræbt ufattelig mange mennesker i den 3. verden - og ingen skal stå til ansvar for det.
På denne side finder du bl.a. 10 meget interessante videoer
Bl.a. dette klip:
2. John Stockwell, former CIA Station Chief in Angola video segment.
John Stockwell, former CIA Station Chief in Angola in 1976, working for then Director of the CIA, George Bush. He spent 13 years in the agency. He gives a short history of CIA covert operations. He is a very compelling speaker and the highest level CIA officer to testify to the Congress about his actions. He estimates that over 6 million people have died in CIA covert actions, and this was in the late 1980's.
To download 6 minute video clip, (1.6MB) click on http://www.peace.ca/stockwell.wmv
Windows Media Player 6.4 or later is required to view video
Det militærindustrielle kompleks -- fjenden indefra
kristeligt Dagblad d. 30/6 2006
KRONIK: Verdens sidste supermagt er i dag truet af dén indre fjende, som præsident Eisenhower indsigtsfuldt advarede imod i 1961: En konflikt imellem dét, der gavner det militærindustrielle kompleks, og dét, der gavner det amerikanske samfund…
…Efter nogle år med jubel over kommunismens sammenbrud opstod der alvorlige økonomiske og politiske problemer i USA. Dollaren begyndte at falde drastisk (ligesom det i øvrigt sker nu igen, hvilket i sig selv skaber begrundet frygt for nye terrorangreb og mere krig!). Fredsvindene medførte, at beskæftigelsen stagnerede i USA i midten af 1990'erne. Militærbaser samt fly- og våbenfabrikker lukkede eller skar drastisk i antallet af ansatte. Arbejdsløshedskøen voksede år for år.
Samtidig med den militære og nationale lavkonjunktur begyndte titusindvis af højreorienterede amerikanere at organisere sig i militsgrupper, der udpegede den føderale regering i Washington som fjende af det amerikanske folk. 100.000 mand stor blev denne hær, der først blev ignoreret, men så at sige sprængte sig vej på den politiske dagsorden.
En chokeret præsident Clinton og omverden erfarer den 19. april 1995, at den statsfjendtlige cowboy-hær mener det alvorligt, da en regeringsbygning i Oklahoma City bliver sprængt i luften og over 168 uskyldige mennesker dræbt. Umiddelbart efter Oklahoma-bomben anholdt FBI 13 militsfolk i Arizona, mistænkt for at forberede bombeattentater mod amerikanske regeringsbygninger…