Fra FN's generalforsmaling 2018:
FN-chef slår dyster tone an i åbningstale
Politikken d. 25/9 2018
António Guterres advarer om en stadig mere kaotisk verdensorden, hvor internationalt samarbejde er afgørende.

...Prinele artiklencippet om multinationalt samarbejde 'er under beskydning, præcis når vi har mest brug for det'.
Guterres advarer i sin tale om stigende populisme og polarisering mellem verdens lande. Samtidig med at populismen vinder frem, nedbrydes tilliden til internationale institutioner, siger han.
»De, der ser deres naboer som farlige, kan forårsage en trussel, hvor der ikke fandtes en. De, der lukker deres grænser for almindelig indvandring, giver blot menneskesmuglerne mere arbejde«, siger Guterres...
Trump lancerer en patriotisk doktrin og sætter streg under de to forskellige verdenssyn, der deler landene på FN's generalforsamling.
Politiken d. 25/9 - 2018
Sidste års hovedfjende, Nordkorea, var erstattet af Iran, da USA's præsident, Donald Trump, tirsdag stod på talerstolen ved FN's generalforsamling. Hans hovedbudskab var, nationalstaternes suverænitet, mens FN's generalsekretær talte med bekymring om mistroen til de internationale institutioner.
...I Donald Trumps øjne ser det anderledes ud: Med sin 'Amerika først'-politik har han helt bevidst forsøgt at ryste den verdensorden, der har rådet siden Anden Verdenskrig, og som i hans optik er overhalet af en helt ny virkelighed.
Han repræsenterer et USA, der ser suverænitet og internationalt samarbejde som modsætninger.
Det var disse to helt forskellige verdenssyn – Donald Trumps og Antonio Guterres' – der helt grundlæggende var på spil allerede fra FN-generalforsamlingens første dag.
Det store spørgsmål er, om Donald Trump og dette verdenssyn blot er en parentes i historien – eller om det er en ny normalitet, som den neokonservative analytiker og forfatter Robert Kagan formulerede det i avisen The Washington Post efter talen:
»Mange har et håb om, at det amerikanske præsidentvalg i 2020 vil bringe USA tilbage på dets gamle spor. Men de må begynde at indse, at det, vi ser i dag, ikke er en midlertidig rystelse, men en ny retning i amerikansk udenrigspolitik eller rettere en tilbagevenden til en gammel tradition«...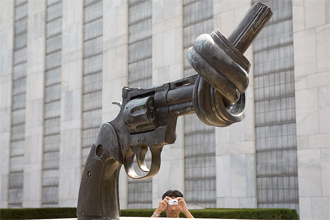 ---
FN's Charter
Charter of the United Nations

We the Peoples
of the United nations
United for a Better World

http://www.un.org/aboutun/charter
WE THE PEOPLES OF THE UNITED NATIONS DETERMINED
to save succeeding generations from the scourge of war, which twice in our lifetime has brought untold sorrow to mankind, and

to reaffirm faith in fundamental human rights, in the dignity and worth of the human person, in the equal rights of men and women and of nations large and small, and

to establish conditions under which justice and respect for the obligations arising from treaties and other sources of international law can be maintained, and

to promote social progress and better standards of life in larger freedom,

AND FOR THESE ENDS

to practice tolerance and live together in peace with one another as good neighbours, and

to unite our strength to maintain international peace and security, and

to ensure, by the acceptance of principles and the institution of methods, that armed force shall not be used, save in the common interest, and

to employ international machinery for the promotion of the economic and social advancement of all peoples,

HAVE RESOLVED TO COMBINE OUR EFFORTS TO ACCOMPLISH THESE AIMS

Accordingly, our respective Governments, through representatives assembled in the city of San Francisco, who have exhibited their full powers found to be in good and due form, have agreed to the present Charter of the United Nations and do hereby establish an international organization to be known as the United Nations.
In order to promote the establishment and maintenance of international peace and security with the least diversion for armaments of the world's human and economic resources, the Security Council shall be responsible for formulating, with the assistance of the Military Staff Committee referred to in Article 47, plans to be submitted to the Members of the United Nations for the establishment of a system for the regulation of armaments.
The Sustainable Development Goals 2015 – 2030
The 17 Sustainable Development Goals for the period 2015-2030 are:
1) End poverty in all its forms everywhere
2) End hunger, achieve food security and improved nutrition, and promote sustainable agriculture
3) Ensure healthy lives and promote well-being for all at all ages
4) Ensure inclusive and equitable quality education and promote life-long learning opportunities for all
5) Achieve gender equality and empower all women and girls
6) Ensure availability and sustainable management of water and sanitation for all
7) Ensure access to affordable, reliable, sustainable, and modern energy for all
8)Promote sustained, inclusive and sustainable economic growth, full and productive employment and decent work for all
9) Build resilient infrastructure, promote inclusive and sustainable industrialization and foster innovation
10) Reduce inequality within and among countries
11) Make cities and human settlements inclusive, safe, resilient and sustainable
12) Ensure sustainable consumption and production patterns
13) Take urgent action to combat climate change and its impacts (in line with the United Nations Framework Convention on Climate Change)
14) Conserve and sustainably use the oceans, seas and marine resources for sustainable development
15) Protect, restore and promote sustainable use of terrestrial ecosystems, sustainably manage forests, combat desertification, and halt and reverse land degradation and halt biodiversity loss
16) Promote peaceful and inclusive societies for sustainable development, provide access to justice for all and build effective, accountable and inclusive institutions at all levels
17¡) Strengthen the means of implementation and revitalize the global partnership for sustainable development
UN Framework Convention om Climate Change
FN's 70 . Generalforsamling 2015 Instruktion for den danske delegation
Lykketoft: FN-aftale om udviklingsmål er epokegørende
DR d. 3/8 - 2015
FN forpligter sig fuldt ud i kampen mod klimaproblemer, lyder det fra den nyvalgte formand, Mogens Lykketoft.
…Målene stræber efter at udrydde sult og ekstrem fattigdom, nedbringe ulighed både i enkelte lande og lande imellem, sikre ligestilling, forbedre kvaliteten af vand og energiforsyning og tage omgående tiltag for at bekæmpe klimaforandringer…
Underudvikling
FN er klar med en bæredygtig udviklingsplan
Arbejderen d. 4/8 - 2015
...Søndag blev forhandlere fra FN's 193 medlemslande enige om en plan, som med sine 17 mål lægger op til at udrydde ekstrem fattigdom og sult inden 2030 samt skabe "menneskelig velfærd samtidig med at miljøet beskyttes", lyder det fra FN
Der ventes mindst 150 stats- og regeringsledere til et særligt topmøde i FN's generalforsamling den 25. til 27. september, hvor planen ventes vedtaget....
Millennium Development Goals
- 2015 Målene
www.2015.dk er et led i den danske oplysningskampagne for 2015 Målene. Redaktionsgruppen bag webportalen består af FN-Forbundet, FN's Informationskontor for de nordiske lande, Udenrigsministeriet og UNDP's nordiske kontor. For spørgsmål eller bidrag til siden, kontakt venligst info@2015.dk
Vurdering af om målene blev nået
---
Her kan man bl.a. finde et link til:
Resolution adopted by the General Assembly
55/2. United Nations Millennium Declaration
Som vi har taget et klip fra, se nedenfor, som omhandler fredsarbejdet (II starter med pkt. 8):
II. Peace, security and disarmament
8. We will spare no effort to free our peoples from the scourge of war, whether within or between States, which has claimed more than 5 million lives in the past decade. We will also seek to eliminate the dangers posed by weapons of mass destruction.
9. We resolve therefore:
• To strengthen respect for the rule of law in international as in national affairs and, in particular, to ensure compliance by Member States with the decisions of the International Court of Justice, in compliance with the Charter of the United Nations, in cases to which they are parties.
• To make the United Nations more effective in maintaining peace and security by giving it the resources and tools it needs for conflict prevention, peaceful resolution of disputes, peacekeeping, post-conflict peace-building and reconstruction. In this context, we take note of the report of the Panel on United Nations Peace Operations1 and request the General Assembly to consider its recommendations expeditiously.
• To strengthen cooperation between the United Nations and regional organizations, in accordance with the provisions of Chapter VIII of the Charter.
• To ensure the implementation, by States Parties, of treaties in areas such as arms control and disarmament and of international humanitarian law and human rights law, and call upon all States to consider signing and ratifying the Rome Statute of the International Criminal Court.2
• To take concerted action against international terrorism, and to accede as soon as possible to all the relevant international conventions
• To redouble our efforts to implement our commitment to counter the world drug problem.
• To intensify our efforts to fight transnational crime in all its dimensions, including trafficking as well as smuggling in human beings and money laundering.
• To minimize the adverse effects of United Nations economic sanctions on innocent populations, to subject such sanctions regimes to regular reviews and to eliminate the adverse effects of sanctions on third parties.
• To strive for the elimination of weapons of massdestruction, particularly nuclear weapons, and to keep all options open for achieving this aim, including the possibility of convening an international conference to identify ways of eliminating nuclear dangers.
• To take concerted action to end illicit traffic in small arms and light weapons, especially by making arms transfers more transparent and supporting regional disarmament measures, taking account of all the recommendations of the forthcoming United Nations Conference on Illicit Trade in Small Arms and Light Weapons.
• To call on all States to consider acceding to the Convention on the Prohibition of the Use, Stockpiling, Production and Transfer of Anti-personnel Mines and
on Their Destruction, 3 as well as the amended mines protocol to the Convention on conventional weapons.4
10. We urge Member States to observe the Olympic Truce, individually and collectively, now and in the future, and to support the International Olympic Committee in its efforts to promote peace and human understanding through sport and the Olympic Ideal.
---
Fattigdom og sult (nr. 1)
»Mål for 2015: Halvér andelen af mennesker, der lever for under en dollar om dagen og som lider af sult.« Mål nummer ét i FN's såkaldte Millenium-plan for bekæmpelse af fattigdom.
Grundskole til alle (nr. 2)
»Mål for 2015: At sikre at alle drenge og piger gennemfører grundskolen« Mål nummer to i FN's storstilede plan om uddannelse for alle
Kønsulighed i skolerne (nr. 3)
»Målsætninger for 2005 og 2015: At udrydde kønsuligheder på grund- og mellemskoleniveau – så vidt muligt inden 2005 – og på alle niveauer før 2015.« Mål nummer tre i FN's Milleniumplan
Færre børn skal dø (nr. 4)
»Mål for 2015: at reducere børnedødeligheden for børn under fem år med to tredjedele.«
Mål nummer fire i FN's Milleniumplan
Bedre fødselsforhold (nr 5)
»Mål for 2015: Antallet af kvinder som dør under fødsel, skal reduceres med 75 procent.«
Mål nummer fem i FN's Milleniumplan
Stop spredning af aids (nr. 6)
Mål for 2015: Stop og begynd at reducere spredningen af hiv/aids, malaria og andre større sygdomme Mål nummer seks i FN's storstilede millennium-plan – vedtaget i september 2000
Natur konserves (nr. 7)
»Mål for 2015 og 2020: Indarbejdelse af principperne for bæredygtig udvikling i national politik og programlægning og omslag fra tab af miljømæssige goder – 2015: Halvering af antal mennesker uden adgang til ordentligt drikkevand – 2020: Mærkbar forbedring af levekårene for mindst 100 millioner slum-beboere.«
Mål nummer syv i FN's Milleniumplan
Globalt partnerskab (nr. 8)
Mål: At udvikle et globalt partnerskab for udvikling.
Mål nummer 8 i FN's milleniumplan for bekæmpelse af fattigdom.
Rapport om Millennium Development Goals 2015
Millennium Development Goals Repport 2015
Preben Wilhjelms essay
'Irakkrigen og den fremtidige verdensorden'
Som fredsbevægelse må vi arbejde på at alle respektere FN's love. Heri er en angrebskrig ikke tillad. Vi må arbejde på at FN love forbedres og ikke forringes ved at USA, Danmark m.fl. ikke overholder dem. Læs den spændende essay om konsekvenserne af en ulovlig krig af Preben Wilhjelm.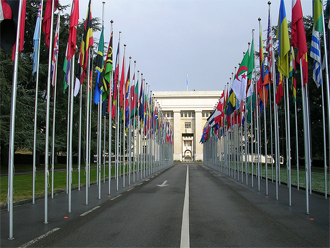 Foto Lily, UN Geneva Flags, flickr, link til billlede
kan findes på:
http://www.un.org/Depts/dhl/resguide/r57.htm
som et pdf dokument.
IPB President Cora Weiss comments:
This resolution is very important. It was drafted by the Swedes and negotiated for over 100 hours by Sweden's Amb. Pierre Schori...it is the first major conflict prevention strategy prepared by the UN and it is a good resource for students to discuss in class, and communities, and then advocate for its implementation. Peace Education is conflict prevention."
---
Resolution on Iraq United Peoples & United Nations: Uniting for Peace
Email adresser til medlemmer af sikkerhedsrådet
Email adresser til medlemslandenes rep. i FN
Vigtige fredsdokumenter fra FN
Vigtige FN tekster / vedtagelser
---
FN's nedrustningskommissions rapport for 2003
Fra Erik Arnsted fra FN-Forbundet har vi modtaget link til ovenstående. Hele rapporten kan findes på: http://www.un.dk/doc/A.58.0042.pdf
Vi har lagt en del af rapporten her.
---
At Bush ønsker at danne en militærpolitistyrke til at stabilisere efter en krig uden om FN kan ikke undre nogen, men det er endnu et anslag fra USA mod dannelsen af et internationalt retssamfund.
Det vil naturligvis være bedst for amerikanerne, hvis NATO og andre allierede støtter så organisationens handlinger kan ligne et lovligt internationalt engagement, der kan tage over efter en ulovlig amerikansk besættelse.
Vi håber, at det kan lade sig gøre at påvirke den danske regering til at satse på internationale løsninger gennem FN, med respekt for de regler der er vedtaget internationalt, selv om regeringen indtil nu har vist noget andet.
Poul Eck Sørensen
Min kilde: Information d. 27/12-2003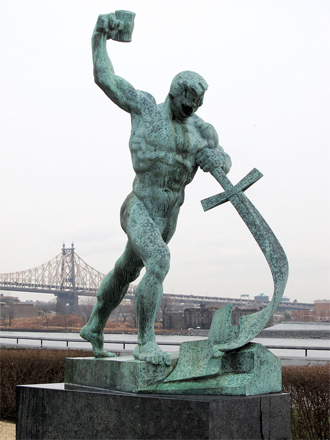 Schwerter zu Pflugscharen - Jewgeni Wutschetitsch - Geschenk der Sowjetunion an die UNO - 1959" by Neptuul - Own work. Licensed under CC BY-SA 3.0 via Wikimedia Commons.">Link til billede
Websider - FN:
First Committee,
Disarmament and International Security
The First Committee deals with disarmament, global challenges and threats to peace that affect the international community and seeks out solutions to the challenges in the international security regime.
Web-TV fra FN:
First Committee, 25th meeting - General Assembly, 69th Session. 15 Jun 2015 - Disarmament and International Security Committee - Klik her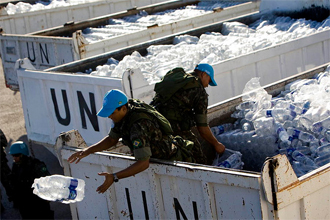 Security Council, Unanimously Adopting Resolution 2250 (2015), Urges Member States to Increase Representation of Youth in Decision-Making at All Levels
UN 9/12 - 2015
Recognizing the threat to stability and development posed by the rise of radicalization among young people, the Security Council today urged Member States to consider ways to give youth a greater voice in decision-making at the local, national, regional and international levels.
Through the unanimous adoption of resolution 2250 (2015), which defined youth as persons aged 18 through 29, the Council also urged Member States to consider setting up mechanisms that would enable young people to participate meaningfully in peace processes and dispute resolution.
UN Security Council adopts first-ever resolution on youth, peace and security
9 December 2015 – The United Nations Security Council today adopted a historic resolution on youth, peace and security that urges greater representation by young men and women in the prevention and resolution of conflict amid "the rise of radicalization to violence and violent extremism amongst youth, which can be conducive to terrorism."