Til denne webside om Ukriaine, forsøgr vi at finde nyheder som er vigtige og som man ikke hører så meget til.
Ukraines højreradikale kræfter udfordrer stat og samfund
Solidaritet d. 9/7 - 2020
Nazilignende tilstande på gaden i Ukraine er ved at blive hverdag. Politiet er flere gange kommet til kort over for de højrenationale kræfter, der også vinder indpas i de lokale myndigheder. Vesten ser stiltiende til, mens Ukraine flere steder er ved gå i opløsning. Aksel V. Carlsen rapporterer om situationen i Ukraine.
Af Aksel V. Carlsen
"… I dagens Ukraine fungerer staten ikke! Embedsmænd handler på vegne af en ikke-eksisterende stat. En stat bør dog være for alle. Den bør stå for retfærdighed og beskytte alle. Men det er ikke tilfældet i Ukraine". De ord kom på tv-kanalen Ukraine 24 fra Mikheil Saakashvili, Georgiens ex-præsident, der nu leder et reform-udvalg under Ukraines præsident Volodymyr Zelenskij.
Der kan peges på flere områder, hvor staten ikke virker – og nærmest fremstår som fejlslagen og ustabil. Foruden manglende vilje til at skabe fred i Østukraine /Donbass, og et retsvæsen i forfald og korruption – er statsmagtens voldsmonopol udfordret. Det skyldes de overfald og brandpåsættelser, som højreradikale kræfter siden Majdan-oprøret i 2014 har stået bag...
...Imens statsapparatet efter nye ministerrokader næsten er lammet, og præsident Zelenskij beroliger befolkningen – så antyder ukrainske analytikere, at der i landets erhvervs- og politiske elite er kræfter, som har interesse i optrapning af konfrontation. Den ukrainske analytiker Daniil Bogatyrjev skriver på Facebook, at højreekstremisterne efter Majdan i 2014 betragter gaden som deres domæne. De vil ikke tillade, at andre kræfter – som Sharija-partiets aktivister – overtager scenen. Ifølge ham er den eneste lov, de følger, en junglelov som siger: "Den der slår først har ret, og den stærkeste sætter dagsordenen".
Hvorom alting er, så tyder udviklingen i et af Europas største, men også fattigste lande – som nyder støtte fra USA, EU og NATO – at statens voldsmonopol smuldrer. Og vi andre bliver blot spist af med, at det hele er russernes skyld.

Partiet for Den Europæiske Venstre (EL) følger med forundring over, hvad der sker i Ukraine.
EL-erklæring om Ukraines arbejdslovgivning.
Formanden for den parlamentariske udvalg for socialpolitik, Galina Tretyakova, fremsatte nogle udsagn af fascistisk karakter, der bekræfter, at børn af fattige forældre er af "dårlig kvalitet", og at det er nødvendigt at lære fra lande, der steriliserede mødre, der ikke var i stand til at støtte deres børn. Hun er også forfatteren af ??den klart anti-union regning nummer 2681, som vil gøre det næsten umuligt for ukrainske arbejdere at organisere og kæmpe for deres arbejdsvilkår og løn.
Med undskyldningen for at "modernisere" Ukraines arbejdslovgivning er arbejdsreglerne blevet ændret flere gange i de senere år, og nu er det beregnet til at annullere denne arbejdskodeks, der har været i kraft siden 1971. På trods af sine mangler overvejer de ukrainske fagforeninger at koden forbliver en grundlæggende søjle i kampen mod liberalisering af industrielle forbindelser i Ukraine, liberalisering, der kun er til gavn for arbejdsgivere.
Med denne nye kode er målet at annullere fagforeningers evne gennem deres udvalg til at forhindre misbrug af arbejdsgivere på arbejdstagere. Vi opfordrer vores medlemspartier og alle fagforeninger til at protestere mod dette anti-arbejdsforslag fra den ukrainske regering.
Alt dette kræver EL, at EU klart udtrykker sin modstand mod denne lov og nedskærer alle sine forbindelser med Ukraine, hvis den bliver godkendt.
Amerikansk overmagt i Ukraine
Arbejderen d. 12/6 - 2020 af af Aksel V. Carlsen
USA optrapper de militære aktiviteter i Sortehavet, sender våben til Ukraine, har biologiske laboratorier og blander sig i landets politiske topudnævnelser. Analytikere udtaler, at Ukraine er under ekstern styring...
...Da Ukraines parlament i marts åbnede for salg af landbrugsjord, begrundede Zelenskij dette med, at sådan var betingelsen for opnå nye lån fra Den Internationale Valutafond, hvor USA jo har størst stemmevægt.
Det var i den forbindelse, et par anerkendte ukrainske analytikere udtalte, at det var endnu et tegn på, at Ukraine er under ekstern styring og administration.

Ukraines arbejdere i protest mod angreb på fagforeninger
fagbladet 3F d. 5/7 - 2020
Fagbevægelsens demonstrationer fik landets parlament til at udsætte behandling af omstridt lovforslag.
Den 30. juni protesterede ukrainske arbejdere mod en omstridt lovreform. Landets nye regering har fremlagt neoliberale reformer af arbejdsmarkeds-lovgivningen som vil medføre afskaffelse af nogle af de mest centrale faglige rettigheder i landet. Det fik folk på gaden, og de pressede det ukrainske parlamentet til at udsætte behandlingen af lovforslaget.
Bygningsarbejderforbundet PROFBUD, som 3F samarbejder med, deltog i de landsdækkende demonstrationer. Hovedformålet med protesterne var at få taget det berygtede lovforslag nummer 2681 af bordet. Vedtages loven om fagforeninger, kan det risikere at underminere fundamentet for den ukrainske fagbevægelse...

366 dage med præsident Zelenskij, del 3: Amerikanske laboratorier og oligarker
Solidaritet d. 8/6 - 2020 af. Aksel V. Carlsen
I Ukraine kritiseres præsident Zelenskij nu for løftebrud på flere felter. Men hvad og hvem binder denne politik sammen? Hvilke holdninger, konkrete personer og interesser ligger bag den?
Vestlige medier valgte fra starten side i den interne ukrainske konflikt ved at forenkle billedet. I 2014 fik vi først en ensidig skildring af Majdan, der begyndte som en bred folkeprotest. Men derefter hyldede man de maskerede militante aktivister, der besatte offentlige bygninger, og amerikanske politikere gnubbede skulder med lederen af det ekstreme højreparti Svoboda. Senere blev der tyst omkring USA's indblanding i den videre proces. Alt bliver fremstillet som "Ruslands krig mod Ukraine" – ofte med udokumenterede påstande. Og nu, hvor situationen i Ukraine på mange måder er kritisabel, er vores public service medier tavse...

366 dage med præsident Zelenskij, del 2: kampen mod korruption er udeblevet
Solidaritet d. 20/5 - 2020 af Aksel V. Carlsen
Under valgkampen i 2019 erklærede Zelenskij, at hans mål ikke var at føre kamp mod korruption, men at besejre det uvæsen, der gennemsyrer Ukraine og hæmmer dets udvikling. Det tog dog tid, inden der kom reelle skridt.
I en republik med semi-præsidentstyre – måtte Zelenskij som nyvalgt præsident gå stille med dørene, så længe han ikke havde flertal i parlamentet. Det fik han først efter parlamentsvalget i september, hvorefter han nu kontrollerer både den udøvende og lovgivende magt. Men efter et år som præsident lyder hans valgretorik mod korruption: "Ved forårstid vil vi sætte de skyldige bag lås og slå" – som et hult ekko...
...Der er hverken sket en forventet retsforfølgelse af eks-præsident Poroshenko eller af korruptionsskandaler knyttet til toldvæsenets ledelse. Drabene på Majdan, mordbranden i Odessa og mordet på den fremtrædende journalist og forfatter Olesj Buzina – disse og andre sager er ikke afsluttet....

Ukraine: 366 dage med præsident Zelenskij: krig eller fred i Donbass?
Solidaritet d. 20/5 - 2020 af Aksel V. Carlsen
For et år siden vandt Volodymyr Zelenskij præsidentvalget i Ukraine med 73 pct. af stemmerne. Han havde lovet fred i Østukraine og bekæmpelse af korruption. – Krigen er dog fortsat, og nye korruptionsskandaler har forbindelser helt ind i præsidentens egen nærmeste omkreds. Aksel V. Carlsen tegner et portræt af Zelinskijs Ukraine efter et år med komikeren ved magten...

Ukraine On Fire 2016 Oliver Stone
d. 15/2 - 2020
Documentary by Oliver Stone about the history of Ukraine and what happende on maidan in 2014 and about the western media and US role in what happend on Maidan.

Efterretningseksperter: Tåbeligt at lade frygten for Putin og co. begrænse vores egen ytringsfrihed
Politiken d. 14/10 - 2019

Kronik af
Ole Stig Andersen var chef for PET 1975-84. Ole Hasselbalch er tidligere professor og efterretningsanalytiker under den kolde krig.

...Og historien gentager sig. I relation til konflikten mellem Ukraine og Rusland hæfter vi os således ved, at den tidligere amerikanske Nato-ambassadør Victoria Nuland har oplyst, at man fra amerikansk side siden 1991 har brugt over 5 milliarder dollars på at fremme demokratiet i Ukraine.

Dette er en klokkeklar indblanding i et andet lands indre forhold...

Læs hele artiklen
Krævr abonnement

Ukrainske høyrenasjonalister forhindret tilbaketrekning av tropper fra Donbass
af Bjørn Nistad, steigan.no d. 11/10 - 2019
Den 1. oktober underskrev Ukraina den såkalte Steinmeier-formelen om hvordan Minsk-avtalene fra 2015 kan gjennomføres ved at de opprørskontrollerte områdene i Donbass, som idag utgjør folkerepublikkene Donetsk og Lugansk, innrømmes vidtgående selvstyre samtidig som det gjennomføres valg i området. Dette har utløst omfattende protester i Ukraina som har fått kommentatorer til å snakke om både et nytt Majdan-opprør og statskupp...

Menneskerettsgrupper i Israel krever slutt på våpensalg til nazister i Ukraina
af redaktøren
steigan.no d. 5/9 - 2019
Ei gruppe på mer enn 40 menneskerettsaktivister i Israel har underskrevet et opprop til Høyesterett for å få slutt på Israels salg av våpen til Ukraina, skriver Haaretz.
De argumenterer med at våpnene bare tjener til å styrke krefter som er åpenlyse tilhengere av en nynazistisk ieologi og viser til dokumentasjon som viser at den høyreekstreme Azov-militsen, som utgjør en del av de væpnede styrkene i Ukraina, og som er støttet av innenriksdepartementet, bruker disse våpnene. En tidligere appell til Forsvarsdepartementet i Israel førte ikke til noen respons.
Haaretz skriver at Azov-militsen, som ble opprettet i 2014, bruker nazistiske symboler og emblemer, de bruker nazihilsen og de bærer hakekors og SS-merker. Noen av dem innrømmer åpent at de er nynazister og Holocaust-fornektere, skriver avisa. Den viser også til at grunnleggeren av Azov, Andriy Biletsky, er en kjent ny-nazist og grunnlegger av nazi-gruppe Ukrainas patrioter.

Briefing on the situation in Ukraine - Security Council, 8575th meeting
FN video d. 16/7 - 2019
Briefing on a letter from the Permanent Representative of the Russian Federation on the situation in Ukraine.
PS: Jeg kunne ikke få videoen til at virke i Firefox men i Safari og Crome.

The Upcoming neo-Nazi Concert in Ukraine That No One Is Talking About
Saturday will see up to 1,500 people attending a gig in Kiev headlined by notorious U.S. neo-Nazi group Blue Eyed Devils. Even an expert on the far-right music scene is shocked how open Fortress Europe is being.
Haaretz d. 18/6 - 2019
KIEV A venue that has staged a number of popular music acts over the years is playing host to something considerably less mainstream this Saturday: On the anniversary of the date Nazi Germany invaded the...

Neo-Nazis and the Far Right Are On the March in Ukraine
Five years after the Maidan uprising, anti-Semitism and fascist-inflected ultranationalism are rampant.
By Lev Golinkin
The Nation d. 22/2 - 2019
Five years ago, Ukraine's Maidan uprising ousted President Viktor Yanukovych, to the cheers and support of the West. Politicians and analysts in the United States and Europe not only celebrated the uprising as a triumph of democracy, but denied reports of Maidan's ultranationalism, smearing those who warned about the dark side of the uprising as Moscow puppets and useful idiots. Freedom was on the march in Ukraine.
Today, increasing reports of far-right violence, ultranationalism, and erosion of basic freedoms are giving the lie to the West's initial euphoria. There are neo-Nazi pogroms against the Roma, rampant attacks on feminists and LGBT groups, book bans, and state-sponsored glorification of Nazi collaborators.

Truth of Ukraine War Revealed: Watchdog Media Releases Timeline Video of Ukrainian War From Euromaidan to MH-17
GlobalResarrch d. 19/7 - 2017
On the three year commemoration of the tragic shootdown of Malaysian Airlines Flight MH-17, Brisbane, Australia based Watchdog Media has released the most thorough and accurate chronological portrayal of events occurring between the start of Ukraine's Euromaidan in November 2013 and the tragic destruction of Malaysian Airlines flight MH-17 on July 17, 2014.
Between 2013 and 2017, the Watch Dog Media Institute compiled and archived the largest known video volumes of first-person video related to the Ukraine war, as well as the largest and most substantial amount of all mainstream media footage related to such.

Ukraine forbyder kommunister at stille op til valg
Arbejderen d. 28/7 - 2015
Tre ukrainske kommunistiske partier har fået forbud mod at stille op til både lokalvalg, parlaments- og præsidentvalg. Samtidig er den ekstreme højrefløj i offensiven.
Læs hele artiklen, kræver abonnement.
Vi har modtaget d. 5/9 - 2015
REDUCING NUCLEAR DANGERS
President Vladimir Putin
President Barack Obama
cc
Foreign Minister Sergei Lavrov
Secretary of State John Kerry
Congressional and Duma Committees on Strategic Forces
Policymakers

Dear Presidents Obama and Putin, Foreign Ministers and Secretaries of State, Members of Duma and Congressional Committees on Strategic Nuclear Forces, and Policymakers:

You have already received letters from Generals James Cartwright and Vladimir Dvorkin, former commanders of American and Russian missile forces, from International Physicians for the Prevention of Nuclear War (IPPNW), and from faith leaders worldwide expressing deep concern, if not alarm, at the possibility that tension between Russia and NATO may spiral out of control with a catastrophic outcome. We strongly echo and endorse all that has been said in those letters, and in the related study on de-alerting by Global Zero headed by Generals Cartwright and Dvorkin. According to that study,
"Tension between Russia and the West over the Ukraine crisis has brought the parties one step closer to the precipice of nuclear brinksmanship, the point at which nuclear risk skyrockets,"
and:
"it has flared to the point that it is producing dangerous misunderstandings and action-reaction cycles with strong escalatory updrafts."

We note that on the 40th anniversary of the signing of the Helsinki Document establishing the Organisation for Security and Cooperation in Europe, the OSCE Parliamentary Assembly adopted a resolution which 'Expressed deep concern at increased nuclear threats arising from the deteriorating relationship between Russia and NATO,' and 'Called on all OSCE States with nuclear weapons or under extended nuclear deterrence relationships to reduce the risks of a nuclear war by taking nuclear weapons off high-alert, and by adopting no-first use policies.'

Like the OSCE Parliamentary Assembly, we are deeply alarmed over the direction in which the confrontation over the borders of the Ukraine may be going. Like the OSCE Assembly, we believe nuclear risk reduction measures are a matter of urgency. What is placed at risk by an ongoing and deepening political, and increasingly a military, confrontation between NATO and Russia far exceeds in importance the future power and credibility of NATO and of Russia, and any territorial issues between them.

What is placed at risk, in the very worst case, is civilization itself, and potentially, human survival. This is not of course to say that a completely 'apocalyptic' event sequence is what WILL take place, or even that this is the most likely outcome of such a sequence. We all hope and pray that nothing of the sort takes place and that a peaceful negotiated settlement of issues arising from the 2014 Ukraine crisis is eventually reached by all parties, including Russia. However, the likelihood of a catastrophic outcome is by no means zero. The record of history – especially of August1914 – shows that even where national leaders are confident that they have everything in hand, events can spin out of control with consequences that are completely out of proportion to anything that might initially have been at stake.

Confrontational attitudes and actions, (particularly between militaries), no matter who initiates them or who is to 'blame', can as the European Leadership Network points out, all too easily lead to accidental conflict or even to just plain catastrophic accident. If this were to lead to deeper and prolonged military conflict between two parties (such as in the Baltics) there is no telling where it would stop, or if it could be stopped at all without spiraling (as in 1914) into a conflict that no-one actually sought, but which no-one did enough to prevent.

The involvement of nuclear-armed forces in mirror-imaged and adjacent exercises conducted within kilometers of each other and without adequate (or any) communications between the rival forces recklessly courts disaster. Such exercises should never take place.

But should, for any reason, nuclear weapons be bought into play, even at a tactical level, it is hard to see how the level of conflict could be controlled and prevented from escalating to the use of land-based, silo-based high-alert nuclear forces. These number just under 1000 warheads on both the Russian and the US sides, with somewhat larger numbers of submarine-based warheads available.

The use of those silo-based, high – alert forces would destroy NATO, Russia and other countries as functioning societies in slightly over an hour.

It would also bring about the immediate deaths of up to a billion people, depending on precisely what targeting strategies were followed.

Smoke from burning cities (see below on non-targeting of cities) would then enter the upper stratosphere where it would remain for a number of decades, bringing about temperatures lower than the last ice-age, and making agriculture impossible, or nearly so, throughout the temperate zone for decades.

The majority of humans even in countries untouched by hostilities, would starve.

Again, we are not saying this is what WILL happen, but neither can anyone reasonably assert that it will NOT happen. The fact is that the probability of this kind of outcome is nonzero and is unacceptably high.

If the awful possibilities outlined above are to be avoided, a number of commonsense steps need to be taken. Most of them have been discussed at length in various international fora. Most of them have been suggested in the correspondence you have already received.

1) Nuclear weapon systems that are currently kept on high alert need to have their posture changed so that they are no longer in such a status. The maintenance of nuclear weapons on high alert gives decision-makers ridiculously short time-frames (minutes), in which to make utterly apocalyptic decisions. Those decisions can only legitimately be made in at least a 24-72 hour time-frame if at all ever. We fully endorse the advice of Generals Cartwright and Dvorkin on this matter. Your attention is also drawn to a number of General Assembly resolutions urging a lowering in operational readiness, notably the resolution on 'Operational Readiness of Nuclear Weapon Systems' resolution sponsored by NZ, Switzerland, Sweden, Chile, Malaysia and Nigeria, and India's 'Reducing Nuclear Dangers' resolution. These resolutions are regularly adopted by massive majorities(166 yes votes including key US allies for 'Operational Readiness') in the General Assembly.

2) In 1998, the US and Russian governments, in the wake of a 'near miss' in 1995, when a weather research rocket was mistaken for a US SLBM, agreed to establish a Joint Data Exchange Center. That agreement has been reaffirmed a number of times, most recently in 2010. The Joint Data Exchange Center however remains unbuilt. It should be made operational at the very earliest.

3) A series of measures concerning nuclear posture, notably 'no first use' doctrines and a decision to no longer target cities (as noted above cities are the most prolific source of the black smoke that brings about nuclear winter) would also make a vast contribution to the reduction of the risk of nuclear catastrophe. Because of the indiscriminate impact on civilians and other non-military targets, any retaliation against cities would be the most egregious violation of international humanitarian law. Even an incoming attack involving the incineration of dozens of major cities must not be retaliated against in kind because of the even-more-profound catastrophic climate disruption which would ensue. These decisions would require deep changes to nuclear postures and doctrines.

The safest nuclear weapon by far is one that does not exist at all. The majority of the worlds governments and parliaments, not to mention NGOs, see the elimination of nuclear weapons not as something it might be 'nice' to do 'in some century', but as an urgent existential priority. We ask that the nuclear weapon states to view the complete and total elimination of nuclear weapons, as mandated by the Nuclear Nonproliferation treaty (NPT) itself, as an urgent existential priority.

Finally, we affirm strongly that solutions to the Ukraine crisis itself are not to be found by blaming and pointing fingers at or by either party. Nor are they to be found in the use of military force. They can be found only by a fair negotiated diplomatic settlement involving compromises including on matters that may be seen by some to be 'non-negotiable'. The solutions lie in a willingness to negotiate precisely over 'non-negotiables'. Only a settlement that takes the interests of all concerned into account, and that does so in a way that is clearly fair can be made to stick.

Military force – by either side – is not the answer.

Even if a solution cannot immediately be found, the importance of taking measures to ensure that there is never a premature and catastrophic end to civilization and much more, is utterly paramount.

Signed
(organizational affiliations for identification purposes only)

(Letter coordinators/editors)
John Hallam, Human Survival Project, People for Nuclear Disarmament NSW

Peter King, Human Survival Project,

Alyn Ware, Co-Chair, World Future Council Commission on Peace and Disarmament,London,

Aaron Tovish Mayors For Peace 2020 Vision Campaign, Stockholm,
Ira Helfand, Co-President, International Physicians for the Prevention of Nuclear War (IPPNW – 1985 Nobel Peace prize)

Steven Starr, Senior Scientist, Physicians for Social Responsibility (PSR) Missouri,

Others
Dr Helen Caldicott, Founder, PSR,(Physicians for Social Responsibility) Patron, Human Survival Project, Australia,
Judy Plyth/Jo Vallentine, People for Nuclear Disarmament W.A., Perth, W.A.,

David Krieger, President, Nuclear Age Peace Foundation, Santa Barbara Calif,
Kevin Zeese & Margaret Flowers, Popular Resistance,
William Boardman, Panther Productions, Vermont,
David Swanson, World Beyond War, Peaceworkers,
Ellen Thomas, Executive Director, Proposition-1 Campaign, USA,
Professor Lawrence Wittner,(History, emeritus) SUNY, Albany, NY, USA

Barbara Birkett, Science for Peace, Toronto, Canada,
Prof. Paul Meyer, Senior Fellow, Simons Foundation, Canada,

Sergey Kolesnikov, member of Russian Acad.Sci., distinguished scientist of Russia, Professor of Moscow State University,

Hugh Steadman, Marlborough Chamber of Commerce, Blenheim, New Zealand,
Commander Robert Green, Royal Navy (Ret'd), Co-Director, Disarmament & Security Centre, Christchurch, New Zealand.

Jenny Maxwell, Secretary, Hereford Peace Council, UK,

Tarja Cronberg, Chair, Middle Powers Initiative, Finnish Peace Union,
Michele Di Paolantonio, MD, IPPNW Italy,
Prof. Tom Sauer, Assoc. Professor in International Politics, University of Antwerp, Belg,
Colin Archer, General Secretary, International Peace Bureau (IPB), Geneva,
Wolfgang Schlupp-Hauck, Vorsitzender der Friedenswerkstatt Mutlangen e.V.

Junko Abe, Ikata People Against MOX, Ikata, Japan,
Takao Takahara, Director, PRIME (International Peace Research Institute,
Meiji Gakuin University), Japan,

Sukla Sen, EKTA (Committee for Communal Amity), Mumbai, India,
Brigadier Vijai K. Nair(ret), Magoo Strategic Infotech, Noida, India,
Dr Ron Mccoy Malaysian Physicians for Social Responsibility, KL, Malaysia,
KenFM zeigt: Regime-Change in der Ukraine? Dr. Daniele Ganser im Kino Babylon Berlin
KenFM d. 6/6 - 2015
Jetzt KenFM unterstützen: https://www.patreon.com/KenFMde | Aus der Physik wissen wir, dass Ursache und Wirkung miteinander zu tun haben, und kennen auch eine Reihenfolge. Erst die Ursache, dann die Wirkung. Ein Glas, das zerschlagen am Boden liegt, musste erst fallen.
Kein logisch denkender Mensch würde diese zeitliche Abfolge beim Beobachten von Naturgesetzen in Frage stellen. Geht es dann aber um die "Physik" politischer Ereignisse, wird dies ständig versucht.
Bevor sich die Krim in der Ukraine von der Regierung in Kiew abspaltete und es zur sogenannten Krim-Krise kam, die bis heute anhält und zu einem Bürgerkrieg im Land und massivem Stress mit Moskau führte, kam es in der Ukraine zu einem "Regime-Change", der nicht ohne Tote auskam.
Auf dem Maidan-Platz wurden zig Bürger mit und ohne Uniform von Kugeln getötet, die von Scharfschützen auf Dächern abgefeuert worden waren. Hier handelt es sich um klassischen Mord, der dazu führen sollte, Chaos zu stiften, um so einen Putsch vorzubereiten.
Wer die Schützen waren, wer sie bezahlte und ihnen den Befehl gab, sowohl auf Demonstranten als auch Polizisten zu schießen, ist bis heute nicht wirklich geklärt. Fest steht: Erst als im Anschluss der damalige Präsident Janukowitsch das Land fluchtartig verließ und die NATO-Marionette Poroschenko ins Amt gehievt wurde, reagierte Putin in Moskau und unterstütze die Abspaltung der Krim.
Auf der Krim befindet sich der wichtigste Militärstütpunkt Moskaus. Sevastopol. Offiziell gemietet bis 2042.
In der Westpresse wird dieser zeitliche Ablauf einfach um 180 Grad gedreht und damit die Geschichte auf den Kopf gestellt. Manipulation der öffentlichen Meinung als Basis für Kriegs-Propaganda gegen Russland.
Der Schweizer Historiker Dr. Daniele Ganser folgte der Einlandung von KenFM und Free21 nach Berlin, um die Geschehnisse in der Ukraine in ihrer korrekten zeitlichen Abfolge darzulegen.
Eingebettet wird sein Vortrag in die Geschichte zahlosser Regierungsputsche, die eben alles andere sind als ein Demokratieexport. Oft wurde durch einen Putsch die Demokratie beseitigt. Was den Menschen gern als Regime-Change verkauft wird, sprich Befreiung von der Diktatur mit Hilfe von Außen, stellt sich bei genauerem Hinsehen oft als Import eines (anderen, dem Westen wohlgesinnten) Diktators dar.
In diesem Spiel sind die USA bis heute federführend. Welche Rolle spielten sie damals auf dem Maidan und welche Folgen hat der Regime-Change oder Putsch in Kiew für Europa, und damit auch für Deutschland?
Knappe zwei Stunden Geopolitik im Kino Babylon in Berlin, mit aktuellem Bezug. Spannend und vor allem erhellend, wenn es darum geht, wie in den Massenmedien die Wahrheit verbogen wird, um auch den Bürger der BRD wieder für Krieg zu begeistern. In Zeiten des Internet hat die Staatspropaganda es dann aber zunehmend schwerer, Menschen flächendeckend das Gehirn zu waschen.
Die öffentliche Meinung ist das zweitgrößte Imperium auf diesem Planeten. WIR sind nicht Machtlos. Bildung hilft, die vermeintliche eigene Ohnmacht konsequent als das zu erkennen, was sie ist: Das Resultat bewusster Propaganda. Bildung ist hier das effektivste Gegengift. Bilde Dich. Mach Dich auf die Suche nach anderen Quellen. Macht Dir Dein eigenes Bild.
Dr. Daniele Ganser kann dabei ein Anfang sein.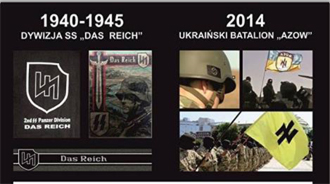 Nazi-korps bevæbnes af staten
Højreekstreme ind i Ukraines hær
Det fascistiske korps Højre Sektor bliver indrulleret i Ukraines hær og får bedre våben. Dets leder bliver rådgiver for den ukrainske hærs øverstbefalende.
Arbejderen d. 18/4 - 2015
…Ifølge det russiske nyhedsbureau Tass vil en gruppe som Højre Sektor fremover blive finansieret af staten og bevæbnet bedre. Korpset med sine i dag 10.000 medlemmer opstod i februar 2014 under protesterne på Maidan-pladsen i Kijev og deltog i jagten på landets præsident…
…Højre Sector (Pravy Sektor) er en fascistisk, ultranationalistisk organisation. Dets medlemmer stormede den 22. februar 2014 Ukraines parlament og præsidentbolig med våben…
…Højre Sektors leder, Dmytry Jarosh, vil desuden blive udnævnt til rådgiver for hærens øverstkommanderende, oplyste den ukrainske tv-kanal 112 tv-kanal søndag…
…Dmitry Jarosh skrev på sin Facebook-side i februar, at fredsaftalen mellem regeringen i Kijev og oprørerne i Østukraine (Minsk-2-aftalen) ikke har juridisk værdi, og at den er i strid med Ukraines forfatning…