Nyheder om fredsbygning:
ChatGPT Mar 23 Version.
d. 19/3 -2023

Jeg prøvede at stille dette spørgsmål:
Hvordan får vi fred i verden?
og jeg fik dette svar:

At opnå fred i verden er en kompleks udfordring, der kræver en bred vifte af løsninger på både globalt og lokalt niveau. Her er nogle forslag:

1) Dialog og forhandling: Konflikter kan ofte løses gennem dialog og forhandling mellem parterne. Diplomati og dialog er vigtige redskaber til at finde fælles grund og løse konflikter på en fredelig måde.

2) Uddannelse og kulturel udveksling: Uddannelse og kulturel udveksling kan bidrage til at skabe større forståelse og tolerance mellem forskellige samfund og kulturer, og dermed mindske konflikter og fordomme.

3) Økonomisk udvikling: Økonomisk udvikling kan føre til større stabilitet og fred i et samfund. Udvikling af infrastruktur og skabelse af jobmuligheder kan bidrage til at mindske fattigdom og social ulighed, hvilket kan være en kilde til konflikter.

4) Internationalt samarbejde: Internationalt samarbejde er afgørende for at tackle globale udfordringer, herunder konflikter, klimaændringer og økonomisk ulighed. Stærke internationale institutioner og aftaler kan bidrage til at fremme fred og samarbejde mellem nationer.

5) Respekt for menneskerettigheder: Respekt for menneskerettighederne og grundlæggende friheder er afgørende for at skabe et fredeligt samfund. Diskrimination og undertrykkelse af minoriteter kan føre til konflikter og uro.

6) Nedrustning og afvæbning: Nedrustning og afvæbning kan bidrage til at mindske spændinger og konflikter mellem nationer. Nedrustning af atomvåben og andre masseødelæggelsesvåben er især vigtigt for at undgå alvorlige konflikter.

7) Bekæmpelse af terrorisme: Terrorisme kan true freden og stabiliteten i samfundet og kræver en stærk international indsats. Effektiv bekæmpelse af terrorisme kræver samarbejde og koordinering mellem nationer og respekt for menneskerettighederne.

Der er mange faktorer, der påvirker freden i verden, og løsningerne er komplekse og kræver samarbejde og engagement fra mange forskellige aktører. Men ved at tage skridt til at fremme dialog, respekt og samarbejde, kan vi arbejde hen imod en mere fredelig verden.
"Handl beslutsomt, før det er for sent", advarer Guterres lande og udstikker sine prioriteter for 2023
UN d. 6/2 - 2023 - oversat med google - link til original tekst nedenfor
6. februar - Han talte til generalforsamlingen i New York og appellerede til en hurtig handling nu for at opnå fred, økonomiske rettigheder og udvikling, klimaindsats, respekt for mangfoldighed og inkluderende samfund – både i dag og for kommende generationer.
Inden generalsekretæren udfoldede sin køreplan for 2023, kondolerede familierne til ofrene for de ødelæggende jordskælv i Türkiye og Syrien og tilføjede, at FN mobiliserer for at støtte reaktionen.
Rettighedsbaseret tilgang
Guterres understregede behovet for transformation i år, baseret på FN-pagten og Verdenserklæringen om Menneskerettigheder .
"Når vi ser på prioriteterne for dette år, er en rettighedsbaseret tilgang central for at nå vores ultimative prioritet: en sikrere, mere fredelig og mere bæredygtig verden," sagde han og opfordrede landene til at "handle beslutsomt, før det er for sent."
Dommedagsuret tikker
FN-chefen ved at henvise til nyheden om, at det symbolske dommedagsur - udviklet for mere end 75 år siden af atomvidenskabsmænd til at måle menneskehedens nærhed til midnat, eller selvdestruktion - kun var 90 sekunder væk fra den time.
Den russiske fuldskala invasion af Ukraine, klimanødsituationen, stigende nukleare trusler og undermineringen af globale normer og institutioner har skubbet verden tættere på udslettelse.
"Dette er det tætteste ur nogensinde har stået på menneskehedens mørkeste time – tættere på end selv under højden af den kolde krig. I sandhed er dommedagsuret et globalt vækkeur. Vi er nødt til at vågne op – og komme på arbejde ," sagde han.
Tænk på i morgen
FN-chefen understregede, at "vi har brug for en kurskorrektion", og sagde, at handling er mulig, men politikere og beslutningstagere mangler den strategiske vision til at se ud over det korte sigt.
Denne "præference for nutiden" fokuserer kun på den næste meningsmåling, magtbevægelse eller forretningscyklus, hvilket gør fremtiden til "en andens problem" - en tankegang, han beskrev som dybt uansvarlig , umoralsk og selvdestruktiv .
"Mit budskab i dag kommer ned til dette: Fokuser ikke udelukkende på, hvad der kan ske med dig i dag – og stiv. Se på, hvad der vil ske med os alle i morgen – og handling," sagde FN-chefen.
'En tid til forvandling'
Det internationale samfund har en forpligtelse til at handle, fortsatte han, da "dette er ikke en tid til at pille ved", men snarere "en tid til transformation."
Handling bør baseres på FN-pagten , organisationens grundlagsdokument og Verdenserklæringen om Menneskerettigheder , som fylder 75 år i år.
"Når jeg ser på menneskerettigheder i bredeste forstand - med en linse fra det 21. århundrede - ser jeg en køreplan ud af blindgyden," sagde han og bemærkede, at den begynder med retten til fred.
Arbejde for fred
Med den russiske invasion af Ukraine den 24. februar sidste år, der påførte landets befolkning, og langt videre, utallige lidelser, bliver udsigterne til fred ved med at falde, mens risikoen for yderligere eskalering og blodsudgydelser bliver ved med at vokse.
"Jeg frygter, at verden ikke går i søvne ind i en bredere krig. Det gør den med vidåbne øjne . Verden har brug for fred. Fred i overensstemmelse med De Forenede Nationers pagt og international lov," sagde han. "Vi skal arbejde hårdere for fred overalt."
Guterres henviste til situationerne i Mellemøsten, hvor to-statsløsningen mellem Palæstina og Israel er ved at blive fjernere; i Afghanistan, hvor kvinders rettigheder bliver trampet ned; i Sahel, hvor usikkerheden stiger; i Myanmar, som står over for nye cyklusser af vold og undertrykkelse, og i Haiti, hvor bandevold holder hele landet som gidsel.
Genforpligte sig til FN-pagten
"Hvis hvert land opfyldte sine forpligtelser i henhold til chartret, ville retten til fred være garanteret," sagde han. "Det er på tide at transformere vores tilgang til fred ved at forpligte os til chartret igen - at sætte menneskerettigheder og værdighed først , med forebyggelse i centrum."
Generalsekretæren opfordrede til "et holistisk syn på fredskontinuummet", der identificerer grundlæggende årsager til konflikter og fokuserer på forebyggelse, mægling, forsoning, fredsopbygning og større deltagelse af kvinder og unge.
Disse er blandt FN's foreslåede New Agenda for Peace, der har til formål at imødegå både gamle og nye trusler og maksimere koalitioner for diplomati, som det fremgår af Black Sea Grain Initiative , som fungerer selv midt i krigen i Ukraine.
Risiko for atomkrig
I år markerer også 75-året for FN's fredsbevarelse, som vil se øget engagement i reformer, tilføjede han.
Guterres opfordrede også til at bringe nedrustning og våbenkontrol "tilbage til centrum" for både at reducere strategiske trusler fra atomvåben og arbejde for deres totale eliminering.
"Vi er udsat for den højeste risiko i årtier for en atomkrig, der kan starte ved et uheld eller design," advarede han og opfordrede lande med atomvåben til at give afkald på disse "samvittighedsløse våben".

DiCarlo on Ukraine: "This war is not only senseless, but exceedingly dangerous, and it touches all of us. It must end."
Political and Peacebuilding Affairs d. 24/8 - 2022
Mr. President,
On 23 February 2022, this chamber heard impassioned pleas to avert a war in Ukraine. To no avail.
Today, exactly six months later, there is no end in sight to the conflict triggered by the Russian Federation's invasion.
As we meet, the heaviest fighting is concentrated in the eastern Donbas region; in the south near Kherson and Zaporizhzhia; and in the north-east near Kharkiv. But virtually all corners of Ukraine are affected, and no one is out of reach of missile strikes.
At the same time, several attacks, conducted mainly with drones, have also been reported in the Autonomous Republic of Crimea and the city of Sevastopol, Ukraine, occupied by the Russian Federation since 2014...
...Mr. President,
Today's grim six-month anniversary coincides with Ukraine's national day. This is an occasion to celebrate the country's sovereignty and independence and proud heritage, and we congratulate the people of Ukraine on this day.
But let us recall that the human and material toll of the war is tragic, colossal and evident. First and foremost, for Ukraine and its people, and economic consequences for the world are ominous and growing.
The conflict is having another impact that, although less tangible, is just as perilous. In deepening global divisions and exacerbating mistrust in our institutions, the war is weakening the foundations of our international system.
The consequences of a breakdown in how the world manages questions of peace and security are frightening to contemplate.
This war is not only senseless, but exceedingly dangerous, and it touches all of us. It must end.

Fredsaftaler: Derfor kan det være lettere at fortsætte krigen end at slutte freden
Kristelig dagblad d. 22/7 - 2022
...Den opmuntrende historiske erfaring siden 1946 er, at halvdelen af alle krige mellem selvstændige lande slutter inden for et år. Den nedslående erfaring for den anden halvdel af krigene er til gengæld, at hvis først en krig fortsætter ud over et år, varer den i gennemsnit mere end 10 år. Derfor er det helt centralt, at krigsførende lande eller parter i en borgerkrig ikke overlades til sig selv, fremhæver David Cortright...

...Ifølge Frederikke Bruhn Jacobsen kan man slet ikke tale nok sammen med sin fjende under en krig.
"Den største hindring for fred er manglen på tillid mellem parterne. Når man skaber en fortælling om krigen, skaber man også et fjendebillede, og det fjendebillede vokser i takt med, at kontakten svinder ind," siger hun.
"Derfor er det så vigtigt med dialog. Når man går ind i et lokale og ser et menneske i stedet for det monster, man har bygget op, nærmer man sig hinanden. Hvis man ønsker fred, skal man gøre alt for fastholde parterne i forhandlingssporet, også selvom det ikke går godt," siger Frederikke Bruhn Jacobsen og peger på, at det også gælder, når EU for eksempel vedtager økonomiske sanktioner mod Rusland:
"Man skal altid sørge for også at have en diplomatisk strategi."...

FN's 77. Generalforsamling
danmarks prioriteter
Udenrigsministeriet august 2022
3. Fred og sikkerhed 6
3.1 Krigen i Ukraine og geopolitiske spændinger 6
3.2 Bæredygtig fred- og konflikthåndtering

Claus Kold: Ukraine – The Need for A Global Peace Culture
TFF Associate d. 4/7-2022

All wars are different from other wars and, thus, it is impossible to use the experiences of one war to predict the course, end, and consequences of the next. Yet, some wars and peace conferences are more important than others because they fundamentally change history.
The war in Ukraine is a proxy war between Russia and NATO/USA, in which the USA openly says that the aim is to exhaust Russia. This raises several questions:
If that is the purpose of the USA/NATO, then what will be the reaction of an existentially threatened and nuclear-armed Russia?
One may further ask whether, in the light of nuclear war, there is something untouched 'outside' that will not be affected by the consequences of a nuclear war: a first destruction, after which the survivors will face global nuclear winter, with famine and mass death.
If there is no 'outside' in a nuclear war, it will involve the survival of all humanity. With that perspective, one could rightly ask why that doesn't involve all states in a peace conference?
And following the same logic, one may ask whether the demands of Russia, China and the United States for a 'sphere of interest' and a 'security zone' are based on outdated thinking that belongs to the time of the conventional war?
The conflict and war in Ukraine is so complex and probably a tipping point for future global development that there is a need for a new kind of peace congress with the breakthroughs that characterized previous peace congresses.
It can safely be argued that it is time for humanity to jointly establish a global sustainable nuclear-weapon-free security order: a culture of peace...

...Properness, Non-violence and Breakthroughs
Rather than contributing to an endless and hopeless escalation in the direction of nuclear war, states – NATO states in particular – must:
Use existing legislation in NATO, the EU and the UN as soon as possible in a constructive effort for peace: meetings, diplomacy and mediation (Properness);
Work for the establishment of a ceasefire by the UN Secretary-General through a collection of neutral states, which deploy an UN-led peace operation – without asking the Security Council – consisting of neutral country soldiers in white vehicles, uniforms and blue helmets (Non-violence);
Ask the UN Secretary-General to initiate the participation of all states in a series of mediation conferences as soon as possible – again without asking the Security Council. These conferences, with the participation of all world leaders, will support the ceasefire in Ukraine by taking place inside Ukraine. The form should be a critical discursive mediation process emphasising humanity's new situation in a new paradigm of peace (Breakthroughs).
If the super and/or great powers do not show up, the UN Secretary-General could call on the world population to start a global strike against war that shall continue until they do show up.

'Prevention and peacebuilding' – a crucial investment
United Nations News Juni - 2022, Audio & photo: Liz Scaffidi
"We can't afford not to invest in prevention and peacebuilding" – that's the view of newly-minted UN Assistant Secretary-General for Peacebuilding Support, Elizabeth Spehar.
In an interview with UN News, she gave the example of the effectiveness of the Peacebuilding Fund in the Gambia, where UN agencies have supported nationwide consultations on truth and reconciliation. One beneficiary testified that Gambians "now aspire to live in peace in this country."
Ms. Spehar spoke at length to Liz Scaffidi, about the critical importance of building peace and her role in making that happen.

New frontiers in peacebuilding: The role of social media
SIPRI 4/5 - 2021
The 2021 Stockholm Forum on Peace and Development (#SthlmForum) was held on the theme 'Promoting Peace in the Age of Compound Risk'. The studio panel 'New frontiers in peacebuilding: The role of social media', in partnership with the OSCE Cyber Conference and Centre for Humanitarian Dialogue, was streamed live from 16.00–17.15 CEST.
Moderator:
Samantha Bradshaw, Fellow, Stanford Internet Observatory, Cyber Policy Center
Speakers:
Robert Rydberg, Deputy Minister for Foreign Affairs, Sweden
Teresa Ribeiro, Special Representative on Freedom of the Media, Organization for Security and Co-operation in Europe
Miranda Sissons, Director of Human Rights, Facebook
Maria Ressa, Journalist, Author and CEO of Rappler
Daniel Braun, Deputy Head of Cabinet of Vera Jourova, Vice President of the European Commission for Values and Transparency

The 2022 Global Concert,
hosted at United Nations Headquarters in New York, will return to the UN General Assembly Hall in a nod to the inaugural International Jazz Day Sunset Concert in 2012, symbolizing jazz's continued important role as a force for dialogue and diplomacy. Link


Modern Peacebuilding | Building Peace that Lasts
Nonviolence International New York d. 20/5 2020
David Kirshbaum, director of the Nonviolence International Arizona Research Center, breaks down Johan Galtung's peace theory and how it describes what is necessary to create and measure a Culture of Peace.
In a world full of uncontrollable violence, it is necessary to work with what we do have control over, and choose nonviolence where we can. David talks about the different kinds of peace and peacebuilding, and which work best for long term justice. We do have control over creating systems of peacebuilding and maintenance, and the different steps towards sustainable peace. David talks about the systems necessary to create these cultures, and the parallels between Galtung's thinking and the steps the UN has been taking in their peacebuilding mission. And finally, David discusses the scientific methods for measuring peace and peace cultures.
Measuring the Culture of Peace | Barrett Value System
Nonviolence International New York 1/4 - 2020
Doctor Joni Carley gives an introduction to the Barrett System for measurement and analysis of group cultures based on the values of its members. Joni talks about how values are the most important triggers in behaviors, have the biggest impacts in our biological and social standings, and are ultimately the building blocks of culture. By looking at these values, we are able to have a better understanding of the cultures they support - and are supported in.
Joni also talks about how we can use this understanding of the relationship to actually measure the culture of peace in a group or country, as well as their implementation of the UN Sustainable Development Goals.
The Barrett Values Centre has been working to measure and analyze group and country cultures since 1989. The measurement shows how the group is functioning and how to improve by analyzing the values held by the members of the group.
Barrett is now applying their expertise to the measurement of the United Nations Program for a Culture of Peace. Measuring the culture of peace of a given group or country yields a picture of the level of peacefulness within it, how that is affecting its functioning, and what needs to be done to improve it.
Thus the data collected from measuring a culture of peace will lead to concrete evidence supporting or disproving the UN's thesis; that peacefulness actually increases development, productivity, and prosperity. Plus analysis will show which values lead to an increase of peacefulness, and by extension, development and productivity.
se video og linkt til flere oplysninger om the Barrett Model

Breaking the Cycle of Violent Conflict with Johan Galtung
University of California Television (UCTV) d. 21/1 - 2011
A noted pioneer in the field of Peace Studies, Johan Galtung makes the case for incorporating human rights as key to successful peace building around the world.
Generalsekretærens budskab på den internationale dag for kooperativer
UNO d. 1/6 - 2006
Temaet for dette års internationale dag for kooperativer, "Fredsbygning gennem kooperativer", sætter fokus på den stadig større betydning som kooperativer har for arbejdet med at fremme udvikling og fred.

Når FN bygger fred − og stater
Louise Andersen DIIs d. 2005

FN's topmøde i september 2005 blev ikke det store vendepunkt, der var lagt op til. Helt til det sidste var det usikkert, om stats- og regerings- cheferne ville kunne blive enige om noget som helst. Den teatertorden, der typisk ledsager topmøder, var afløst af reelt drama og frygt for fiasko. Helt så galt gik det ikke. Faktisk blev stats- og regeringscheferne enige om en række tiltag, der i det små kan forbedre FN's muligheder for at bidrage til målsætningen om en fredeligere, rigere og mere retfærdig verden. Et af disse tiltag er en særlig "fredsbygningskommission," der skal sikre sammenhængende og langvarig international hjælp til borgerkrigsramte og sammenbrudte lande...
...Inden vi ser på dette forslags videre gang gennem systemet, er det værd at kaste et hurtigt blik på det "gabende institutionelle hul," panelet pegede på. Det kan synes absurd, at FN – hvis fremmeste opgave siden opret- telsen i 1945 har været at skabe fred og undgå krig – mangler et organ til at tage sig af fredsbygning. Ikke mindst når man tænker på, at FN i det daglige er engageret i flere fredsoperationer verden over end nogen anden institution, og at der siden den kolde krigs afslutning er sket en markant styrkelse af koblingen mellem sikkerhed og udvikling – de to kerneelementer i fredsbygning...
...Inden en solid dyne af FN-mistillid får lov at sænke sig, er det dog værd at sammenligne FN's resultater med de resultater, andre – det vil i praksis sige USA – har opnået i lignende indsatser. Den amerikanske
tænketank RAND, der har tætte bånd til Pentagon, har gennemført en sådan systematisk sammenligning af syv USA-ledede missioner og otte FN-ledede missioner. Analysen viser, at FN slet ikke er så ringe endda.
I syv ud af de otte FN-missioner lykkedes det at etablere en form for fred. Det samme gælder kun halvdelen af de amerikansk-ledede. Og det til trods for, at USA i alle tilfælde har haft langt flere ressourcer til
rådighed end FN...

Women Peace and Security
Scenes from the United Nations Security Council Open Debate on Women and Peace and Security held on 27 October 2017. The debate focused on the implementation of Security Council resolutions 1325, 1820, 1888, 2106, 2122 and 2242 and was an opportunity for the Council and the larger membership of the United Nations with an opportunity to identify and more effectively target gaps and challenges.UN Women Executive Director Phumzile Mlambo-Ngcuka presented the Secretary-General's 2017 report on Women Peace and Security; and Charo Mina-Rojas, National Coordinator of Proceso de Comunidades Negras and a representative of civil society, delivered a statement to the Council.
Read More
United Nations Security Council Resolution 1325 on women, peace, and security, Wikipedia
Frivillige bidrag til PBC
Se hvor meget de enkelte lande giver til PBC.
--------------------------------------------------------
Uddannelse
Gör Grundkurs i fred!
Grundkurs i fred är ett perfekt sätt att lära sig mer om hållbar fred och säkerhet i sin egen takt!

Gå vår digitala kurs!

Har du redan påbörjat den? Du vet väl att du kan gå in igen och fortsätta där du slutade?
Link til kurset fra Svenska Freds
Om Johan Galtung
Jeg vil gerne anbefale et lille hæfter "Metode For Fred" - om Johan Galtung, der anses for at være grundlæggeren af en videnskabelig metode til at skabe fred.

"Metode For Fred" kan downloades gratis, klik her.
I fredsbevægelsen har vi været lidt sene til at få focus på Freds- og Konfliktløsning, men nu er vi godt igang.
Tidligere har focus været rettet meget mod modstand mod en række våbentyper og modstand mod krige.
Det er også mit indtryk, at FN også er kommet sent igang med med Freds- og Konfliktløsning, som noget man kan uddanne sig til på universitetsniveau og blive bedre til. (jeg tror, at den proces er startet for alvor i FN omkring år 2000)
Galtung har skrevet / været medforfatter til ca. 160 bøger, så "Metode For Fred" er et meget hurtigt indblik i Freds- og Konfliktforskningen, men super vigtig.
I hæftet "Metode For Fred" er der 2 sider om Freud og Jung i forhold til konfliktløsning, men Galtung har også skrevet en bog om psykologi i forhold til Freds- og konfliktløsning.
I det hele taget har han indraget mange fagdiscipliner i freds- og konfliktløsning:
jura, sociologi, filosofi, retssociologi, samfundsfag, psykologi, historie, fremtidsstudier, fredsstudier, religion, m.m.
I forhold til Ukraine er det ikke alle der er klar over, at man i Freds- og konfliktforsning ikke går ud fra positionerne på slagmarken,
men på hvordan man kan skabe en varig fred, ved at være kreativ og skabe en løsning, som alle parter er glade for.
Af Poul Eck Sørensen

Transcend Metoden
Der skal gøre store anstrængelser for at konflliktløse inden krige opstår.
Opstår de skal de afsluttes hurtigt!
Husk at fredsforhandling med professionelle konfliktløsere går efter en løsning alle er glade for
- ikke ud fra krigens fronter.
FN har ikke altid arbejdet ud fra disse retningslinjer, men det gør FN nu.
Dokumentation: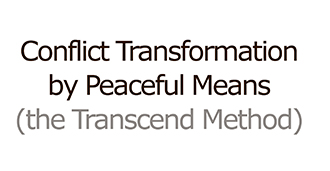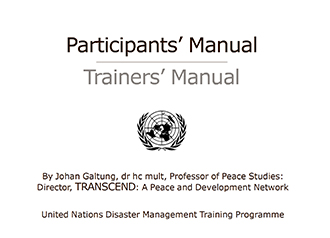 Og over 500 universiteter underviser i Transcend metoden over hele verden. Link
TRANSCEND International
A Peace Development Environment Network

UN Peacemaker is the UN DPPA Online Mediation Support Tool
Klik her

Master i Konfliktmægling - en kompetencegivende mæglingsuddannelse
Nyt hold på Master i Konfliktmægling til september
Master i Konfliktmægling optager studerende hvert andet år. Årgang 2022-2024 er fyldt. Næste studiestart bliver i efteråret 2024 med ansøgningsfrist i foråret samme år. Hvis du skriver dig på mailinglisten her, får du automatisk besked om næste optag.
Om konflikter og konfliktmægling
Konflikter er et livsvilkår. De kan have store negative menneskelige og økonomiske konsekvenser for individer, organisationer og samfund. Omvendt kan konflikter også føre til, at vi lærer nyt om os selv og en verden under stadig forandring. På Master i Konfliktmægling bliver du uddannet i mægling og i at bane vej gennem kaos og konflikt til forståelse, forhandling og gensidigt tilfredsstillende løsninger.
Master i Konfliktmægling er en kompetencegivende mæglingsuddannelse, der giver deltagerne et solidt teoretisk og praktisk fundament til at håndtere konflikter på en konstruktiv og professionel måde.
Uddannelsen forbinder det individuelle plan med det samfundsmæssige, og bibringer dermed deltagerne en helhedsforståelse af konflikter. Der indgår fag som konfliktmægling, konfliktforståelse, konflikt og samfund både nationalt og internationalt, interkulturel forståelse, forhandling og kommunikation - alle på et højeste faglige niveau

The New York Graduate Plan Teaser
Nonviolence International New York
Check out our website to learn more about the New York Graduate Plan
Klip fra uddannelsen:
What is The New York Graduate Plan?
Nonviolence International New York, in partnership with the United Nations Institute for Training and Research (UNITAR), civil society, and private sponsors, offers an internship opportunity for college students interested in gaining experience in UN processes and implementing the 2030 Agenda for Sustainable Development in the field. Entitled The New York Graduate Plan, our program intentionally directs its focus on developing youth to become the next generation of world changers and leaders. The New York Graduate Plan seeks to educate participants on the SDGs, diplomacy, methods and practices of nonviolence, and peacebuilding with the intention that this expertise will then be shared with local and international communities.
Using the United Nations-2030 Agenda Sustainable Development Goals as a guide, program participants will undergo specialized training before developing an individual research project to be published by both Nonviolence International New York and UNITAR or working directly in a civil society organization. In this way, students of The New York Graduate Plan train to be young leaders within the field while also being actors of change in the New York metropolitan area and their home communities abroad. Over the duration of their studies, internship participants will develop and refine leadership skills to be at the forefront of creating lasting and impactful solutions to global issues.
Financial costs of the program
The financial cost of the training is $4,000 per student for a period of three months for our online program. There are installment payment plan options for participants. After three months, students are welcome to join the Nonviolence International New York team by extending their experience for an additional three months. This extension has no additional cost. In this context, previous students will become ambassadors for The New York Graduate Plan and can expect to be project leaders to better promote the program through various actions such as open houses, public or private events, social media, blogs, television, as well as supervising new students in their experience.

Freds- og Konfliktstudier i Nepal
Freds- og Konfliktstudier giver en tværfaglig indføring i studiet af sociale og politiske processer, som fører til konflikt og konfliktløsning på lokalt, regionalt og globalt niveau - med fokus på Sydasien. Studiet svarer til et fuldt semester (30 ECTS) og tilbydes i samarbejde med Oslo Metropolitan University (OsloMet).
Link

--------------------------------------------------------
Et par spændende bøger.:
Se også vores websiden med bøger om emnet:
Især Metode for fred om Johan Galtung, der først og fremmest har brag fredsbygning på banen. beskriver dette emne - mere om bogen her og en gratis pdf-fil om bogen.
og Vreden er en gave Gandhis barnebarn Arun Gandhi fortæller om Gandhis filosofil.
Konflikt og kontakt fra Center for Konfliktløsning
-------------------------------------------------------
Institutioner og forskning i FN:
Peacebuilding Commission
Læs her om the Peacebuilding Commission som blev dannet i 2005.
GUIDANCE ON MEDIATION OF CEASEFIRES
"Ceasefires are a major opportunity to set the foundation for inclusive and comprehensive peace talks"
Rosemary A. DiCarlo, Under-Secretary-General for Political and Peacebuilding Affairs
Link til pdf - filer.
The Department of Political and Peacebuilding Affairs (DPPA) plays a central role in United Nations efforts on conflict prevention, peacemaking and sustaining peace. DPPA monitors and assesses global political developments to detect and prevent potential crises, to help defuse con- flict and to promote lasting solutions. DPPA offers multidimensional, action-oriented analysis, electoral assistance and mediation support to the UN Secretary-General, special envoys, heads of relevant UN missions, regional offices, Resident Coordinators and UN Country Teams in complex political situations to address emerging crises and support national preventive capacities.
The Mediation Support Unit in DPPA's Policy and Mediation Division is the UN's system-wide ser- vice provider of mediation support. Its activities include providing operational support to medi- ation, facilitation and dialogue processes, strengthening the mediation capacity of partners and developing mediation guidance and best practice.
© United Nations Department of Political and Peacebuilding Affairs September 2022. All rights reserved.
Drafted by the Mediation Support Unit of the Policy and Mediation Division, UN Department of Political and Peacebuilding Affairs. The Mediation Support Unit is grateful to all who contributed valuable advice and comments throughout the consultations and review process of this publi- cation.
Suggested citation: United Nations Department of Political and Peacebuilding Affairs, Guidance on the Mediation of Ceasefires, September 2022, https://peacemaker.un.org/thematic-areas/ ceasefires-security-arrangements
Cover Photo: Soldiers from the Khmer People's National Liberation Front Armed Forces praying for peace, after having turned in their weapons under phase two of the ceasefire agreement. July 1992. Credit - UN Photo/Pernaca Sudhakaran
--------------------------------------------------------
Department of Political and Peacebuilding Affairs DPPA.
Sign up to get the latest news and updates from the UN Department of Political and Peacebuilding Affairs delivered to your inbox. link
United Nations Peacebuilding Commission (PBC)
Peace Agreements Database Search
FEATURE SERIES: What is UN peacebuilding and its role in preventing conflicts?
UN Documents for Peacebuilding (including the PBC)
53/243. Declaration and Programme of Action on a Culture of Peace
United Nations Peacebuilding Support Office
Peacebuilding Commission - Wikipedia
Peacebuilding Commission | Press - United Nations
Resolutions on Peacebuilding, Sustaining Peace, United Nations Youth Office, among Texts Adopted by General Assembly
Det engelsek FN-forbund om fredsbygning.
GUIDANCE NOTE OF THE SECRETARY-GENERAL
on United Nations Constitutional Assistance
Link
OCHA coordinates the global emergency response to save lives and protect people in humanitarian crises. We advocate for effective and principled humanitarian action by all, for all.

Declaration and Programme of Action on a Culture of Peace - UN Resolution 53/243
Klip fra resolutionen:
1. The Programme of Action should serve as the basis for the International Year for the Culture of Peace and the International Decade for a Culture of Peace and Non-violence for the Children of the World.
2. Member States are encouraged to take actions for promoting a culture of peace at the national level as well as at the regional and international levels.
3. Civil society should be involved at the local, regional and national levels to widen the scope of activities on a culture of peace.
4. The United Nations system should strengthen its ongoing efforts to promote a culture of peace.
5. The United Nations Educational, Scientific and Cultural Organization should continue to play
its important role in and make major contributions to the promotion of a culture of peace.


Modern Peacebuilding | Building Peace that Lasts Nonviolence International New York
David Kirshbaum, director of the Nonviolence International Arizona Research Center, breaks down Johan Galtung's peace theory and how it describes what is necessary to create and measure a Culture of Peace.
In a world full of uncontrollable violence, it is necessary to work with what we do have control over, and choose nonviolence where we can. David talks about the different kinds of peace and peacebuilding, and which work best for long term justice. We do have control over creating systems of peacebuilding and maintenance, and the different steps towards sustainable peace. David talks about the systems necessary to create these cultures, and the parallels between Galtung's thinking and the steps the UN has been taking in their peacebuilding mission. And finally, David discusses the scientific methods for measuring peace and peace cultures.
Conciliation Resources
(An international organisation committed to stopping violent conflict and creating more peaceful societies).

What is peacebuilding?
Peacebuilding seeks to address the underlying causes of conflict, helping people to resolve their differences peacefully and lay the foundations to prevent future violence.
Why do we need peacebuilding?
The number of violent conflicts has increased dramatically since 2010. The world urgently needs to respond differently.
Violence affects everyone. Wars prevent communities from developing, stop children going to school and make it harder for people to access healthcare. Poverty then drives more conflict, and the cycle continues.
Around a quarter of all people live in countries affected by conflict and violence.
Over 68 million people alive today have been forced to flee their homes. This is the highest it's been since the end of the second world war.
Conflicts drive 80% of all humanitarian needs.
By 2030, it is predicted that half of the world's poorest people will be living in conflict-affected places.
We need to think differently – it's time we stopped picking up the pieces and started putting an end to the cycles of violence. It's time we invested more in peacebuilding.

IPI: The Peacebuilding Commission and Climate-Related Security Risks
Nov. 2020
The International Peace Institute is an independent, international think tank located in New York and Manama, dedicated to the settlement and prevention of armed conflict.
There is a growing consensus that climate change exacerbates existing risks of conflict and violence. Yet, within the United Nations, there is a lack of agreement among member states on which organs are most appropriate to respond to climate-related security risks. The Peacebuilding Commission (PBC) has demonstrated a growing role as a forum for member state discussions on this issue. Analysis shows that the PBC's emphasis on national ownership and its mandate to work across the peace and security, development, and human rights pillars of the UN; to bring together the Security Council, the UN's Economic and Social Council (ECOSOC), the General Assembly, and other organs of the UN; and to convene relevant stakeholders from within and outside the UN system, may make it uniquely positioned as a forum for states to seek international support to emerging climate-related security challenges.

Andre institutioner.
The Peace Research Institute Oslo (PRIO)
conducts research on the conditions for peaceful relations between states, groups and people.
Verdens ælste fredsforskningsinstitut - Galtung var med til at starte det.
Center for Konfliktløsning
Et privat initiativ i Danmark.
Klip fra ders hjemmeside:
Center for Konfliktløsning har siden 1994 arbejdet professionelt med konflikthåndtering og konfliktmægling. Vi fungerer som mæglere, undervisere og procesledere på offentlige og private arbejdspladser og organisationer, i foreninger og privat. Vi uddanner årligt flere hold konfliktvejledere og konfliktmæglere, samt superviserer konfliktmæglere i deres faglige virke.
Folkehøjskolerne Norge om Konflikthåndtering og fredsbygning.